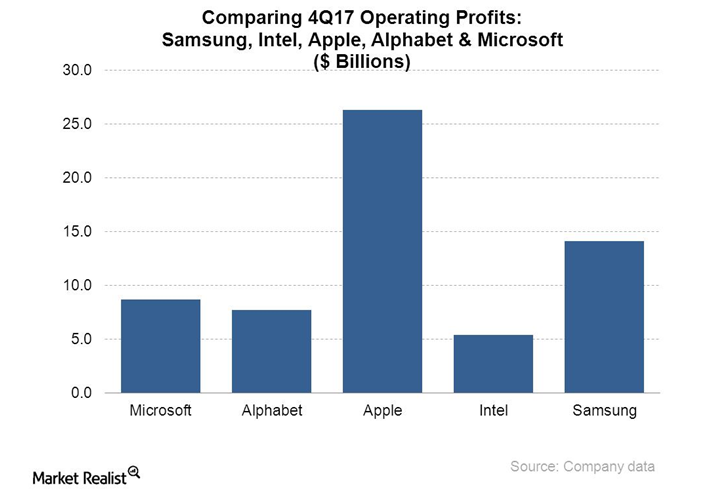 Making Sense of Samsung's Stock Split
By Ruchi Gupta

Feb. 20 2018, Updated 10:32 a.m. ET
Split to make stock more affordable
In 2017, Samsung (SSNLF) rewarded its shareholders with ~$14 billion in the form of dividends and share buybacks. The company distributed ~$5.4 billion in dividends during the year and spent an additional $8.6 billion on repurchasing shares.
However, most retail investors apparently missed out on Samsung's big shareholder return in 2017. At a price of more than $2,200 a share, Samsung stock is out of reach for most small investors. Fortunately for these investors, Samsung has embarked on the process of lowering the barrier to entry to its stock. In a press release, the company stated that it was splitting its stock 50:1, which should make it more affordable and available. According to Samsung, the stock split is a step toward enhancing shareholder value.
Article continues below advertisement
Record profit
The 50:1 stock split means that existing Samsung shareholders receive 50 shares for every single share of the company they own while retaining the existing value of their stake. Samsung's stock split comes amid strong demand for semiconductor components used in electronic devices such as smartphones. The semiconductor boom led the company to a recording operating profit of $14.1 billion in 4Q17.
How others fared
In 4Q17, Samsung's semiconductor rivals Intel (INTC) and Qualcomm (QCOM) posted operating profits of $5.4 billion and $20 million, respectively. Samsung semiconductor customers and smartphone competitors Apple, Alphabet (GOOGL), and Microsoft (MSFT) registered operating profits of $26.3 billion, $7.7 billion, and $8.7 billion, respectively.