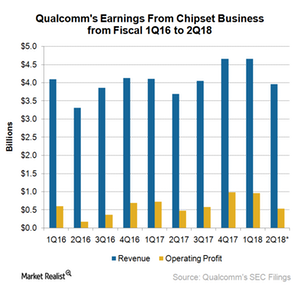 Inside Qualcomm's Chipset Business Today
By Puja Tayal

Aug. 18 2020, Updated 5:14 a.m. ET
Qualcomm's chipset business
So far in this series, we've discussed how legal headwinds have significantly impacted Qualcomm's (QCOM) profits, bringing its GAAP (generally accepted accounting principles) operating profit to zero in fiscal 1Q18. This impacted the company's licensing business.
However, its QCT (Qualcomm Code-Division Multiple Access Technology) segment reported strong growth in earnings as it has expanded its modem chips and Snapdragon SoCs (system-on-chips) beyond the smartphone and into IoT (Internet of Things), server, automotive, and laptops.
Article continues below advertisement
Qualcomm earns more than 75% of its revenues from QCT. As the mobile chipset market operates on thin margins, the company relies on its highly profitable licensing business to fund its chipset business. The company is making efforts to boost its QCT earnings by enhancing its product mix toward other profitable markets.
In December 2017, Hewlett-Packard (HPQ) and Asus announced laptops powered by Qualcomm's ARM-based SoCs (system-on-chips) and Microsoft (MSFT) Windows 10. Qualcomm has also launched its Centriq 2400 server processor and has received a strong response from cloud companies looking for an alternative to Intel (INTC). However, the sales of these products will likely take time to reflect on QCT's earnings.
QCT earnings
QCT revenue rose 13% YoY (year-over-year) to $4.6 billion in fiscal 1Q18, thanks to richer product mix and its 9% YoY increase in MSM (mobile station modem) shipments to 237 million units. The product mix improved as Qualcomm ramped up production of Snapdragon 835 on Samsung's (SSNLF) 10-nm (nanometer) node and realized the cost benefits from the transition to a smaller node.
Increased shipments, improved product mix, and reduced cost converted to a 32% YoY growth in the segment's operating income, representing its seventh-straight YoY growth. QCT's operating margin rose from 17.7% in fiscal 1Q17 to 20.5% in fiscal 1Q18.
QCT guidance
Qualcomm expects smartphone ASP to increase in fiscal 2018, as the consumer trend shifts away from low-tier to mid- and premium-tier phones. Premium phones use Qualcomm's high-margin SoCs driving the company's ASP, thereby improving its product mix.
The company is being conservative in its guidance and not revising its guidance unless the above shift toward higher-end phones is clearly visible. It expects its MSM shipments to fall 24% sequentially to 180 million units in calendar 1Q18 as holiday season sales slow. This decline also includes a greater reduction in orders from a large modem customer and lower-than-expected orders from Chinese OEMs (original equipment manufacturers).
The decline in MSM shipments is expected to reduce QCT's operating margin from 20.5% in fiscal 1Q18 to around 14% in fiscal 2Q18.
Meanwhile, Qualcomm is looking to accelerate its diversification efforts in the chipset business with the acquisition of NXP Semiconductors, but the deal is currently facing uncertainty. We'll discuss the status of this deal in the next part of this series.