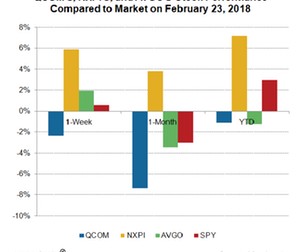 How Investors Reacted to Broadcom-Qualcomm-NXP Merger Update
By Puja Tayal

Updated
Trading activity of institutional investors and insiders 
Qualcomm (QCOM) increased its bid to acquire NXP Semiconductors (NXPI) a few days before the March 6 showdown where Qualcomm shareholders will vote for or against Broadcom-nominated (AVGO) directors. In 4Q17, Qualcomm stated its intentions to close the NXP deal in early 2018 without revealing any plans to increase its bid price above $110. However, NXP's institutional investors and insiders were bullish on the stock, as they were confident that NXP would add significant value to Qualcomm.
Article continues below advertisement
At the end of 4Q17, institutional investors owned 84.5% of NXP's shares valued at about $36 billion. During the quarter, 306 institutional investors purchased 33.5 million NXP shares and 329 investors sold 31.8 million shares, resulting in a net purchase of 1.7 million shares. On the other hand, insiders held their position in NXP with no insider trading reported in 4Q17.
NXP's stock rose 7.1% since the start of 2018, outperforming the S&P 500 Index (SPY), which rose 2.9%. While NXP shareholders were confident about the company's value and growth potential, Qualcomm's shareholders weren't. Qualcomm's stock fell 1.1% since the start of 2018.
Qualcomm discourages shareholders from electing Broadcom-nominated shareholders
Qualcomm tried to build investors' confidence in its ability to achieve $6.5 to $7.5 EPS (earnings per share) by fiscal 2019. However, Broadcom countered stating that Qualcomm's earnings lag behind its peers despite its 4G leadership. Moreover, its licensing model is damaged to such an extent that it cannot recover to its earlier growth levels. Broadcom stated that it can resolve these issues and deliver higher shareholder returns.
In order to demonstrate to ISS and shareholders that it is willing to negotiate a better deal with Broadcom (AVGO), Qualcomm wrote in a letter to shareholders on February 22, 2018, stating that it is open to a "suitable proposal" from Broadcom but has not received one.
Article continues below advertisement
Qualcomm took the opportunity to attack Broadcom for reducing its bid price. Qualcomm stated that Broadcom has made its "inadequate proposal even worse." Even the $8 billion termination fee doesn't adequately compensate its shareholders for the substantial value destruction a likely failure of the acquisition would bring. In a separate letter to Broadcom, Qualcomm demanded a termination fee of 9% of the enterprise value, which equates to ~$13 billion under the current Broadcom offer of $142 billion.
Discouraging shareholders from appointing Broadcom-nominated directors, Qualcomm stated that these nominees would lower the quality of its board of directors.
Should NXP shareholders sell their shares to Qualcomm?
As the NXP deal is almost certain, some shareholders may consider selling the stock and buying Qualcomm. This is because NXP likely won't receive any more revised bids from Qualcomm, as it has signed an agreement with the majority of shareholders who collectively own 28% of NXP's shares to sell their shares. Moreover, NXP doesn't have any more bidders that will compete with Qualcomm's bid, making it difficult for NXP's shares to trade above its revised offer of $127.5.
Instead, investors could likely enjoy the benefits of the combined QCOM-NXP company by taking a position in Qualcomm stock.