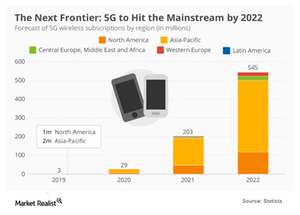 Where Verizon Stands in Providing 5G Technology Services
By Sophia Nicholson

Jan. 25 2018, Published 2:01 p.m. ET
Verizon set to launch 5G in US markets in 2018
Verizon (VZ) is scheduled to roll out its 5G fixed wireless broadband Internet services in 2H18. Verizon successfully implemented several trials in 11 US (SPY) markets in 2017. Verizon (VZ) was the first carrier to deploy the 4G LTE network nationwide, which occurred six years ago.
Verizon (VZ) plans to release its 5G broadband services, powered by millimeter-wave spectrum, in three to five US markets. The company plans to deploy its first 5G facility in Sacramento, California. Additional details about the remaining markets will be disclosed at a later date.
Verizon is initially targeting residential markets for 5G services. Verizon expects that the initial launch in the residential broadband market could impact ~30 million households in the United States.
Article continues below advertisement
5G launch will not impact Verizon's capex
Verizon's 5G commercial launch is not expected to have a material impact on its consolidated capital expenditures in 2018. The company expects its fiscal 2018 capital spending program to be consistent with its capital spending during the last several years. According to Statista, 5G wireless subscriptions are projected to reach 545 million by 2022.
Verizon's wireless competitors AT&T (T), T-Mobile (TMUS), and Sprint (S) are also working on 5G network deployment. AT&T's management stated that the company plans to launch its mobile 5G service in a dozen cities before the end of 2018. Wireless service providers T-Mobile and Sprint are targeting nationwide 5G network deployment by around 2020.