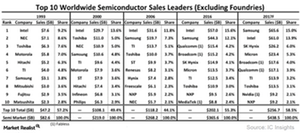 Samsung, Micron, and NVIDIA Are 2017's Biggest Winners
By Puja Tayal

Updated
Semiconductor industry in 2017
The semiconductor industry earns most of its revenue from the PC (personal computer), mobile, and data center spaces. The year 2017 was one of growth in the semiconductor industry, with almost all companies reporting strong revenue growth.
According to IHS Markit, global semiconductor revenue rose 12% sequentially to $113.9 billion as all end markets reported growth in the 2017 holiday season. The largest growth was driven by memory, wireless communications, and data processing chips. IHS expects global semiconductor revenue to have risen 21% YoY (year-over-year) to $428.9 billion in 2017.
Article continues below advertisement
Gartner expects global semiconductor revenue to have risen 19.7% YoY to $411.1 billion in 2017, marking the strongest growth since 2010, when revenue rose 31.8% as the market recovered from the 2008 financial crisis. IC Insights expects global semiconductor revenue to have risen 20% YoY to $438.5 billion in 2017.
Changes in the top ten semiconductor companies by revenue
The semiconductor trends of the cryptocurrency boom, rising memory prices, the increasing adoption of GPUs (graphics processing unit) in AI (artificial intelligence), and increasing radio frequency content per Smartphone brought many changes to the list of top ten semiconductor companies by revenue (excluding foundries) in 2017.
IC Insights expects Samsung (SSNLF) to overtake Intel (INTC) to become 2017's largest semiconductor company by revenue. Samsung's growth has been largely driven by high memory prices. The top five companies include three memory chipmakers instead of two for 2017, with SK Hynix and Micron Technology (MU) taking the fourth and fifth spots.
For the first time, Broadcom (AVGO) is expected to overtake Qualcomm (QCOM) and grab the sixth position in 2017. Qualcomm's revenue has been severely affected by licensing disputes with Apple (AAPL) and other regulatory bodies.
IC Insights expects NVIDIA (NVDA) to enter the top ten list in 2017 as AI revolution, e-sports, and cryptocurrency drive demand for its GPUs.
According to data from IC Insights, the top five semiconductor companies accounted for 40.2% of the industry's revenue in 2016. This share could rise 4% to 44.2% in 2017.
Semiconductor industry outlook 2018
The semiconductor industry is transitioning toward adding more end markets, such as automotive and IoT (Internet of Things) which are as big as the PC and mobile markets.
Gartner expects global semiconductor revenue to rise 4% YoY to $427.4 billion in 2018 largely driven by demand for automotive semiconductors. However, the research firm expects the market to decline 1% YoY in 2019 as memory prices cool.
In this series, we'll take a look at the major stocks that could see key events in 2018.