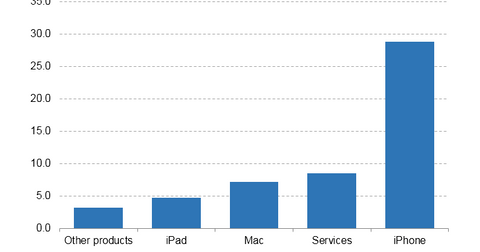 Apple Reinstates Jony Ive as Design Manager
By Ruchi Gupta

Updated
Ive returning after completion of headquarters work
Jony Ive, a key Apple (AAPL) executive in the product design department, is retaking direct control of the company's product design team after two years of hands-off oversight. In 2015, Apple named Ive as its chief design officer, and that move saw Ive become more involved in designing the new Apple Park headquarters in Cupertino, California.
The new headquarters work is now complete, and this seems to have freed up Ive to resume day-to-day management of Apple's product design department. "With the completion of Apple Park, Apple's design leaders and teams are again reporting directly to Jony Ive, who remains focused purely on design," Apple said in a statement cited by Bloomberg.
Article continues below advertisement
Ive oversaw design of popular products
Ive is the creative leader who for many years oversaw the design work of some of Apple's most popular and successful products. His design work spans the original iMac desktop in 1998, the first iPod in 2011, and the iPad in 2010. Of course, the iPhone is included.
Although Ive was originally primarily focused on hardware design, Apple chief executive Tim Cook put him in charge of software design as well in 2012.
A foldable iPhone
The return of Ive to direct management of Apple's product design team couldn't have come at a more important time for the company. Samsung (SSNLF), Apple's fiercest rival in the smartphone market, is hoping to launch a foldable Galaxy smartphone this year, a move that might stir more competition for the control of the smartphone market.
Apple's patent filings have suggested that the company is also interested in designing a foldable iPhone, which could be a dramatic shift in Apple's smartphone design. Ive, with his many years of experience and credentials, would be an important talent to lead Apple's product design team in developing a foldable iPhone. The iPhone accounts for the bulk of Apple's revenues.
Apple is also reported to be working on an AR (augmented reality) device to challenge Alphabet's (GOOGL) Google, Microsoft (MSFT), and Facebook (FB). Ive's contribution might be needed here as well.