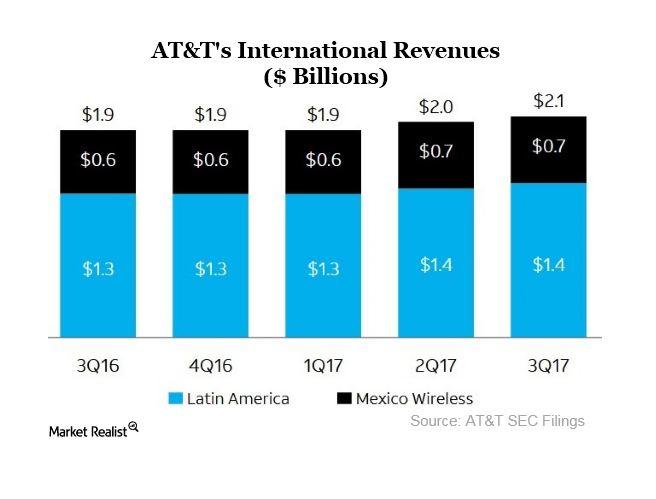 What's Unsettling AT&T in Mexico?
By Ruchi Gupta

Dec. 14 2017, Updated 12:27 p.m. ET
America Movil permitted to collect interconnection fees
The US-based (SPY) AT&T (T) appears to be headed for a more challenging competitive environment in Mexico next year. AT&T operates a wireless network in Mexico. The business, which generated over $700 million in revenue in 3Q17, helped to lift its international revenue by nearly 12% YoY (year-over-year) in the quarter.
Last month, Mexico's telecom regulator, the IFT (Federal Institute of Telecommunications), published revised mobile interconnection rates that would—for the first time in three years—allow America Movil (AMX) to charge competitors for connecting to its network.
Article continues below advertisement
According to a Reuters report, the revised rates permit America Movil to charge its competitors such as AT&T 0.028562 pesos per minute for mobile connections they make through its network. For the competitors, the revised IFT interconnection rates allow them to charge 0.112799 pesos per minute for calls America Movil or other rivals make to their networks.
New rates going into effect in 2018
The IFT's new rates would go into effect in January 2018. Presently, America Movil isn't allowed to charge its competitors interconnection fees because it's viewed as a dominant player.
According to IFT data, America Movil controls about two-thirds of Mexico's wireless market, leaving AT&T and a host of other minority players to share the rest.
AT&T asserts new rates would cause $20 million loss annually
AT&T protested IFT's new rates. According to AT&T's calculations, America Movil's competitors combined would lose $20 million per year for every peso cent that the dominant provider charges in interconnection fees.
AT&T generated $736 million in revenue from its Mexican wireless operation in 3Q17, implying an increase of 26.5% YoY. This gain helped lift AT&T's international revenue 11.7% YoY to $2.1 billion in the quarter, as the chart above shows.
Expansion into Mexico was part of AT&T's efforts to broaden its revenue streams and diversify its markets as Sprint (S) and T-Mobile (TMUS) disrupt its domestic market with un-carrier strategies.