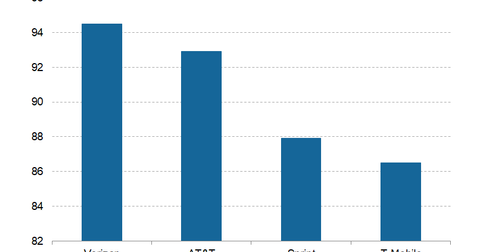 Why Verizon Is Comfortable with Its Current Spectrum Portfolio
By Ambrish Shah

Updated
Verizon's network performance
In the previous part of this series, we learned that Verizon (VZ) continues to push for network densification using small cells. Network performance plays a vital role in the telecom company's customer retention. Verizon has demonstrated that its network advantage can drive customer growth, even with premium pricing.
During the Wells Fargo Media and Telecom Conference held on November 7, 2017, John Stratton, Verizon's EVP and president of its Global Operations segment, discussed the company's network performance. Stratton noted that the company is utilizing just over 50% of its total spectrum portfolio to serve LTE.
He believes that the company made a rational decision to densify its network a few years ago instead of paying significantly at the spectrum auctions. Stratton cited Chicago as an example, where the company has a narrow spectrum position but has successfully used small cell densification to improve performance.
Stratton added, "And to your point about 3.5, we haven't even begun to leverage the unlicensed spectrum that will come available at that band. And we see that as an opportunity to augment capacity as we go. And then you begin to make the pivot with next-generation wireless with millimeter wave spectrum."
To transform the network, Verizon is concentrating on software-defined networking (or SDN) and network function virtualization (or NFV) technologies. SDN helps telecom companies by providing enhanced flexibility and cost savings, as this technique requires them to virtualize their networks as an alternative to spending on dedicated fixed hardware.
RootMetrics
Verizon (VZ) has displayed industry-leading performance in various network performance categories. According to the first half 2017 RootScore report, Verizon ranked first in all six network performance categories: text performance, network reliability, call performance, network speed, data performance, and overall performance.
According to the same report, the overall network performance award was won by Verizon for eight consecutive test periods. Verizon earned a score of 94.5 for overall network performance, compared to Sprint's (S) 87.9, T-Mobile's (TMUS) 86.5, and AT&T's (T) 92.9.