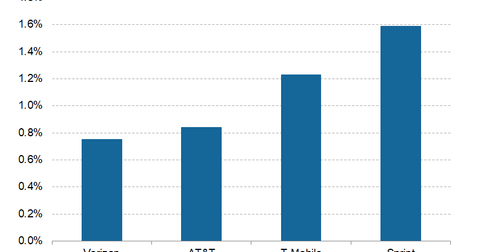 Why Verizon Can Maintain Low Churn Rates
By Ambrish Shah

Updated
Verizon's postpaid phone churn rate
In this part, we'll discuss Verizon's (VZ) customer retention metric, the churn rate. The telecom company's postpaid phone churn rate improved YoY (year-over-year) in 3Q17.
The company reported a postpaid phone churn rate of 0.75% in 3Q17, which is less than 0.90% for the tenth consecutive quarter. Verizon attributed this metric to its strong customer loyalty.
This trend could be significant given that smaller competitors Sprint (S) and T-Mobile (TMUS) have made much of their ability to attract subscribers from other major US wireless carriers, including Verizon and AT&T (T).
During the Wells Fargo Media and Telecom Conference held on November 7, 2017, John Stratton, Verizon's EVP and president of its Global Operations unit, spoke about the company's churn rate.
Stratton stated, "The retention of the base continues to be really strong. So look, I think we'll see what the next 6 or 7 weeks, how that unfolds. Apple certainly has changed the rhythm a little bit with the sort of two-stage release of their product."
Stratton added, "We look at the phone churn particularly, it describes to us how are we doing in terms of meeting our customers' expectations. And so that is a great way to kind of keep everybody honest around the business."
Peer comparison of postpaid phone churn rate
Among the top four US wireless carriers, Verizon maintained the best postpaid phone churn rate in 3Q17. In 3Q17, AT&T and T-Mobile had postpaid phone churn rates of 0.84% and ~1.2%, respectively. Sprint reported a postpaid phone churn rate of ~1.6% in fiscal 2Q17.[1. fiscal 2Q17 ended September 2017]
An increase in churn rate is adverse for wireless companies, which must deal with additional acquisition expenses related to customers. This trend would have an adverse impact on companies' operating margins.