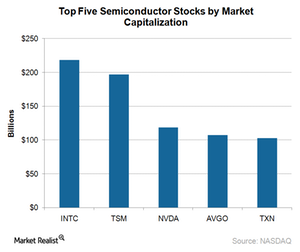 The Top Semi Stocks by Market Capitalization
By Puja Tayal

Updated
Market cap
Investors like semiconductor companies that show strong revenue growth. They also like companies with large revenues. However, not all large companies have high revenue growth rates, and not all companies with high growth rates have large revenues. Investors who want the best of both worlds tend to look at market capitalizations or market caps.
Market cap is calculated by multiplying the stock price by the number of shares outstanding. It tells us the cost of acquiring a company in the open market. The stocks are segregated into large-cap, mid-cap, and small-cap stocks, based on their market caps.
Article continues below advertisement
Large-cap companies are large players in the market that have been in the industry for a long time, or the ones that have strong earnings potential. Many risk-averse investors prefer large cap as the risk of these companies going bust is lower. A large-cap stock doesn't necessarily bring huge returns in the short term, though they can bring steady growth over the long term.
Top 5 semiconductor stocks by market cap
As of December 22, 2017, Intel (INTC) had the largest market cap of $218.6 billion, followed by TSMC (TSM) at $197 billion, NVIDIA (NVDA) at $118.3 billion, Broadcom (AVGO) at $107 billion, and Texas Instruments (TXN) at $102.6 billion.
Article continues below advertisement
Intel and TSM
Intel regained its top position in December 2017, after losing to TSMC in September 2017. This is because of Intel's announcements in AI (artificial intelligence) and automotive improved investor confidence and sent the stock soaring 26% in the past three months to its 16-year high of $47.64. This optimism toward Intel made it the most traded stock.
NVIDIA
NVIDIA has been one of the top-performing stocks in 2016 and 2017, having delivered strong capital gains to investors. NVIDIA is not among the top companies by revenues, but it is a growth stock at the forefront of the AI (artificial intelligence) revolution. Its future growth potential has put it on the list of top semi companies by market cap.
Article continues below advertisement
Broadcom
Broadcom is a large-cap stock because it has grown its size through various acquisitions. It paid for these acquisitions partly through shares, which have increased its outstanding share count. Now, the company is eyeing yet another acquisition of Qualcomm (QCOM), but this time, it's a hostile bid, and the acquisition target is a larger company than Broadcom itself.
Texas Instruments
Texas Instruments has maintained its fifth position in the list of top semi companies by market cap over the past four months and is likely to maintain this position going forward.
Next, we'll look at the stocks that have been traded the most on the stock market.