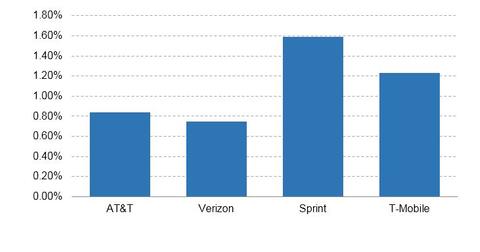 Sprint–T-Mobile Merger: Reading Between the Lines
By Ruchi Gupta

Updated
The comments are telling
Sprint (S) and T-Mobile (TMUS) issued a joint statement announcing that merger discussions had stopped. But the comments in the statement are telling. Reading the statement between the lines appears to suggest that Sprint and T-Mobile could still return to the negotiation table to complete a merger attempt that has now failed twice in just about three years.
Here are some of the comments executives at Sprint and T-Mobile made after the companies unsuccessfully tried to merge.
Article continues below advertisement
"The prospect of combining with Sprint has been compelling for a variety of reasons, including the potential to create significant benefits for consumers and value for shareholders," said T-Mobile CEO John Legere.
"While we couldn't reach an agreement to combine our companies, we certainly recognize the benefits of scale through a potential combination," said Sprint CEO Marcelo Claure.
The joint statement itself was unusual
If the comments aren't telling enough, the unusual step from the companies to issue a joint statement appears to drop more hints about possible future engagement along the lines of a merger.
Subscriber retention is a major issue for carriers
While merger talks were still on, Sprint and T-Mobile appeared to suggest that their subscribers would enjoy faster network speeds and general improvement in customer experience if the merger succeeded. It didn't, but the companies have maintained that they remain focused on improving customer and shareholders experience.
To achieve these goals, Sprint and T-Mobile would have to increase their competition against market leaders Verizon (VZ) and AT&T (T). In the mostly saturated US (SPY) wireless market, subscriber retention is a key focus for the carriers. In 3Q17, Sprint and T-Mobile recorded a postpaid phone subscriber churn rate of 1.59% and 1.23%, respectively, compared with churn rate of 0.75% and 0.84% at Verizon and AT&T, respectively. Subscriber churn rate measures customer defection, so the lower the rate the better.