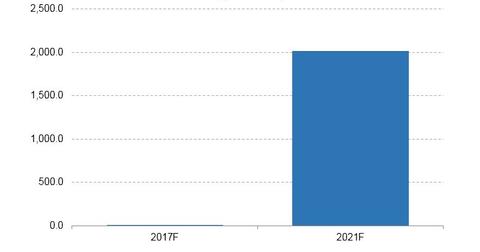 Is Samsung-Apple Competition Spilling into a New World?
By Ruchi Gupta

Updated
Samsung and Apple making AR moves
Just about a month after Samsung (SSNLF) decided to plug into Google's (GOOGL) AR (augmented reality) software platform, ARCore, it emerged that Apple recently quietly acquired Canada-based AR headsets maker Vrvana for about $30 million.
Vrvana designed an advanced AR headset, Totem, which was reportedly built to run Microsoft's (MSFT) Windows 10 OS (operating system).
Apple is believed to be developing a standalone AR device that could launch in 2019 and then start shipping in 2020. As such, the acquisition of Vrvana is viewed as fitting in Apple's ambition for standalone AR device.
Looking for growth beyond smartphones
Samsung and Apple are the world's top smartphone vendors, according to Gartner. Apple, particularly, looks to the smartphone market for more than half of its revenues.
But smartphone market growth has slowed down recently as smartphone penetration has peaked in many key markets. As a result, Apple, Samsung, and other companies that look to the smartphone market for a significant portion of their revenues are looking into emerging product categories such as AR (augmented reality) and VR (virtual reality) for growth.
The AR and VR markets present a $215-billion revenue opportunity
According to research firm IDC, the worldwide combined AR and VR market will hit $215 billion by 2021 from about $11.4 billion expected in 2017. Put differently, the AR-VR market is expected to grow at an annual average rate of 113.2% over the next few years.
The US (SPY) is expected to account for the bulk of AR-VR sales this year at $3.2 billion, followed by Asia-Pacific (excluding Japan) (EWJ) at $3.0 billion. Given the moves that Samsung and Apple have been making recently in their AR push, their competition appears set to extend beyond smartphones.