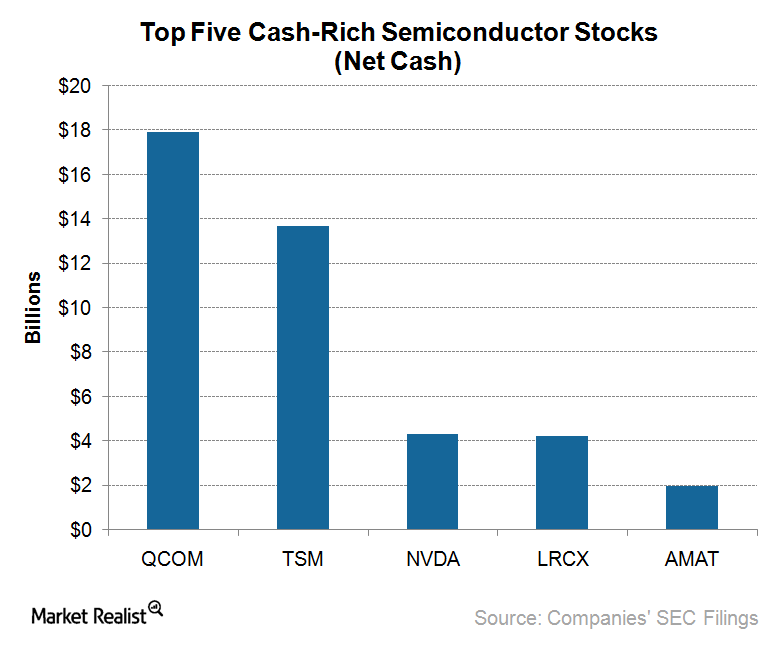 Why Qualcomm Could Exit the List of Top 5 Cash-Rich Semi Companies
Net cash position
Risk-averse investors generally invest in companies with strong fundamentals and balance sheets. A dividend-seeking investor looks out for cash-rich companies as dividends are paid from the operating cash flow generated every quarter. Risk-seeking investors look at companies' investments in future growth opportunities and their potential to plow back returns from them.
Companies spend their free cash flow to give returns to shareholders, to build cash reserves, or to repay debt. The semiconductor consolidation wave in 2015 and 2016 increased the balance sheet leverages of several companies, putting them in net debt positions, wherein their long-term debt was higher than their cash reserves.
Article continues below advertisement
If their net debt is high, companies cut back on share buybacks and channelize their free cash flow toward debt repayment. They might also refrain from increasing their dividends. This high leverage reduces a company's flexibility to invest in other growth opportunities and increases its interest burden, which directly impacts profits and cash flows.
Advanced Micro Devices' (AMD) high leverage pushed the company into severe losses, as its profits were not sufficient to pay the high-interest expense on the debt. Remember, cyclical companies maintain strong net cash positions to withstand down cycles, while growth companies maintain strong net cash positions to invest in future growth opportunities.
The top cash-rich semiconductor stocks
Article continues below advertisement
Qualcomm and TSMC
All these companies except TSMC increased their cash reserves in 3Q17 (TSMC spent capital on the 12 nm or nanometer node). Qualcomm currently has $37.3 billion in cash, which it will likely use to fund the acquisition of NXP for $47 billion by 1Q18. This could push the company into a net debt of $16 billion and would likely bring TSMC back to the first position in 1Q18.
NVIDIA
Growth stock NVIDIA moved from the fourth position in 2Q17 to the third position in 3Q17 as strong profits pushed its quarterly operating cash flow above $1 billion. This helped the company add ~$450 million to its cash reserves after deducting shareholder returns and capital expenditures.
The company's cash reserve is likely to increase in 4Q17 as well as holiday season sales are likely to boost its profits further.
Lam Research and Applied Materials
Cyclical stocks Lam Research and Applied Materials are currently in the cyclical uptrend as semiconductor companies are investing in the technology upgrade. This is keeping the order mill running, thereby increasing profits and cash flows. The two companies are likely to remain in this top five list for the next few quarters.