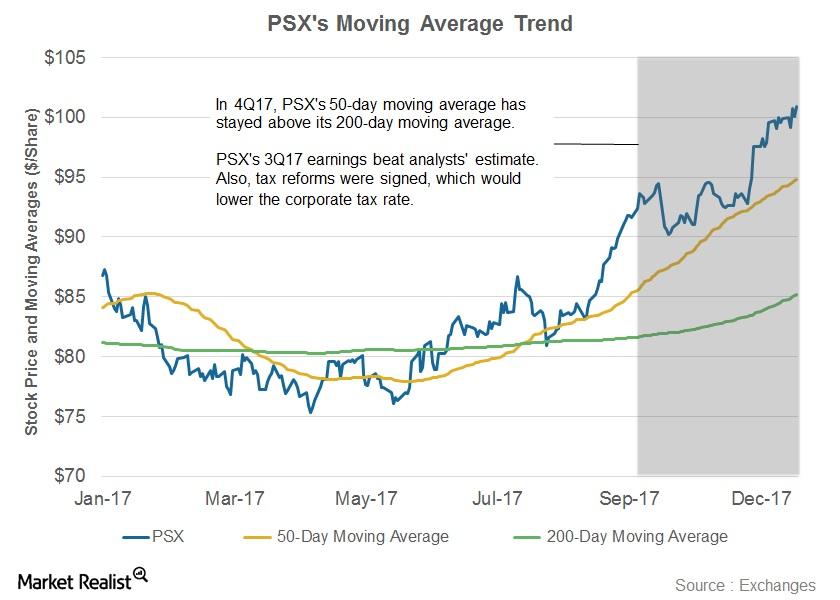 Phillips 66's Moving Averages in 4Q17
Phillips 66's moving averages in 9M17
Phillips 66's (PSX) stock began the year with a decline. Its 50-day moving average (or DMA) broke below its 200 DMA. In the second quarter, as PSX announced its 1Q17 numbers, which surpassed its estimates, the stock rose. However, PSX's 50 DMA remained below its 200 DMA.
In 3Q17, at the end of August, the refining environment strengthened as a result of Hurricane Harvey. Phillips 66's 50 DMA crossed over its 200 DMA in the quarter. If the short-term moving average crosses above the long-term moving average, it is considered a bullish technical sign.
Article continues below advertisement
Phillips 66's moving averages in 4Q17 so far
Phillips 66 stock was pressured at the beginning of 4Q17 in expectation of its 3Q17 numbers. Phillips 66's 3Q17 numbers surpassed Wall Street analysts' estimate and likely led to a surge in the stock.
Tax reforms further supported the stock, which saw a steep rise in its 50 DMA. Currently, Phillips 66's 50 DMA trades 11.3% above its 200 DMA.
Peers' moving averages
Like PSX, Andeavor (ANDV), Valero Energy (VLO), and Marathon Petroleum (MPC) saw their 50 DMAs trade 12.5%, 15.9%, and 12.4%, respectively, above their 200 DMAs.
As the 50 DMAs of these refiners are well above their 200 DMAs, it could imply that they stand in technically bullish terrain. It could also mean that any negative news on refining cracks or inventory positions in the market could not easily cause their 50 DMAs to breach below their 200 DMAs.
The SPDR Dow Jones Industrial Average ETF Trust's (DIA) 50-day moving average trades around 5.3% above its 200-day moving average.
In the next part, we will estimate Phillips 66's stock price range for the next 98 days based on its implied volatility.