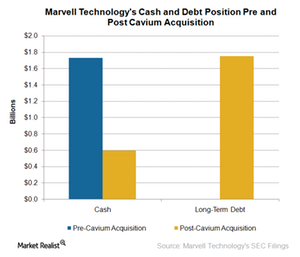 A Look at Marvell's Cash and Debt Position
Cash flow
Marvell Technology (MRVL) improved its profitability significantly in the last year by cutting costs and refocusing its research and development efforts on high-margin, high-growth markets. Improved profitability also helped the company's cash flow.
Marvell's operating cash flow rose 78% (year-over-year) to $216 million in fiscal 3Q18. Its cash flow was higher than Cypress Semiconductor's (CY) cash flow of $144 million. The company reported free cash flow of $194 million, of which it spent $30 million to pay dividends and $140 million to buy back shares.
Article continues below advertisement
Cash and debt position
Higher cash flows increased Marvell's cash reserve from $1.6 billion in fiscal 2Q18 to $1.7 billion in fiscal 3Q18. Marvell is among the few companies with zero long-term debt. However, this is about to change as it prepares to acquire Cavium (CAVM) for $6 billion. Marvell would pay 50% in cash and 50% in the form of shares.
It plans to fund the $3 billion cash payment through a combination of $1.75 billion in new debt, $1 billion in cash reserves, and $250 million from its $500 million revolving credit facility. The combined company would have $1.75 billion in long-term debt and $600 million in cash reserves, resulting in net debt of $1.15 billion. The company would have a leverage ratio of 1.5x including merger synergies.
For the first time, Marvell would have a net debt position. Even Qualcomm (QCOM) would move from a net cash position to a net debt position of $16 billion for the first time after it completed its acquisition of NXP Semiconductors (NXPI) in calendar 1Q18.
Even though higher leverage would reduce Marvell's financial flexibility, the strong cash flows from the merger synergies would help the combined company service the debt. In fact, we've seen speculation that Marvell may acquire the Israel-based InfiniBand and Ethernet products supplier Mellanox as the former's major shareholder, Starboard Value, is interested in the latter.
Overall, Marvell has strong fundamentals, good management, and several long-term growth opportunities that made analysts and investors optimistic about the stock. Wall Street analysts have a "buy" recommendation on the stock.