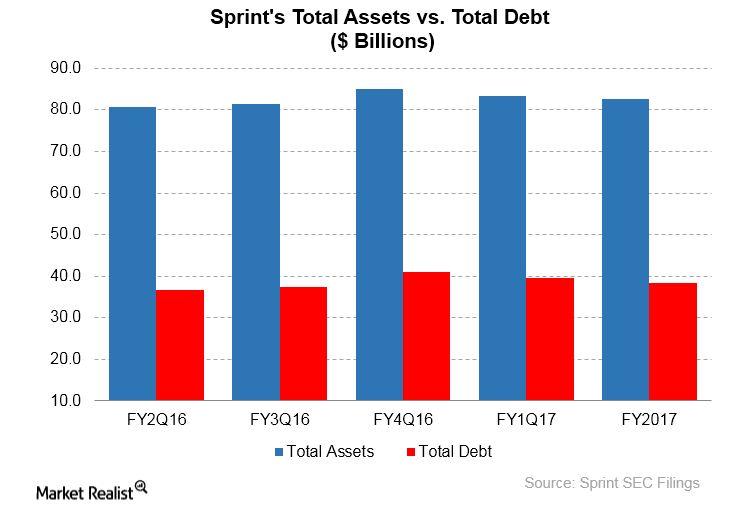 Inside Sprint's Fundraising Strategy
By Ruchi Gupta

Dec. 13 2017, Updated 7:31 a.m. ET
Sprint carried $38.4 billion in debt
At the end of its fiscal 2Q17 (September quarter), Sprint (S) was carrying $38.4 billion in total debt, putting its total liabilities at $63.4 billion. Total assets were $82.5 billion at that time. In this situation, where Sprint appears to be bearing a heavy debt load, raising capital through conventional borrowing channels could be expensive.
So Sprint has tried to be creative in raising the capital it needs for capital expenditures, such as investment in network improvement that it said would cost anywhere between $5.0 billion and $6.0 billion annually starting in the coming fiscal year.
Article continues below advertisement
Using airwave license to borrow cheaply
Sprint's creative methods of raising capital without further straining its balance sheet include the sale and lease-back of a portion of its portfolio of airwaves. It also uses the airwaves as collateral for loans.
To raise the more than $5.0 billion in capital it needs to finance network improvements starting in fiscal 2018, Sprint will continue to use its airwave licenses as collateral to secure cheaper loans, the company's chief financial officer Tarek Robbiati said.
Airwaves asset worth is over $16 billion
Sprint's portfolio of airwaves is so valuable that its parent, SoftBank, is reported to have considered spinning off the asset into a separate public company. Sprint's spectrum holding was estimated last year to be worth roughly $16.4 billion.
Perhaps content with its rich spectrum holding, Sprint didn't participate in the latest airwaves government auction that was concluded in April. Sprint's wireless rivals T-Mobile (TMUS) and AT&T (T) were along the top bidders in that auction. Dish Network (DISH) and Comcast (CMCSA) were other big bidders, bidding $1.7 billion and $6.2 billion, respectively.