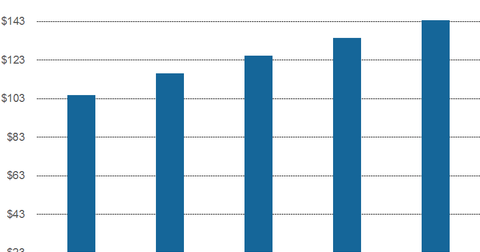 EA and Activision Can Grow Their Long-Term Revenue
By Adam Rogers

Updated
Worldwide gaming revenue to reach $116 billion in 2017
Research firm Newzoo has estimated that worldwide gaming revenue will reach $116 billion in 2017 with more than 2.2 billion players. It indicates 10.7% YoY (year-over-year) growth—compared to revenue of $104.8 billion in 2016. Newzoo has increased its revenue estimate for 2017 from $108.9 billion. Mobile gaming revenue was revised from $46.1 billion to $50.4 billion in 2017, while the PC market's revenue estimates were revised from $29.4 billion to $32.3 billion.
According to Newzoo's report, "The upward revision is, for the most part, a result of our continuous tracking and analysis of the game revenues generated and reported by more than 100 public companies. The analysis also shows further consolidation in the market, with the highest-grossing companies accounting for an ever-greater share of the global games market."
Newzoo expects the global gaming market to grow at a CAGR (compound annual growth rate) of 8.2% until 2020. The global gaming market is expected to reach $143.5 billion.
Major gaming firms
Globally, the major gaming firms include Electronic Arts (EA), Activision (ATVI), and Take-Two Interactive (TTWO). While EA's revenue is expected to rise 4.7% YoY, Wall Street analysts expect Activision and Take-Two Interactive's revenue to rise 5.7% and 6.3%, respectively, in the next fiscal years.
Public companies are expected to account for 80% of the total gaming revenue in 2017—up from 75% in 2016.