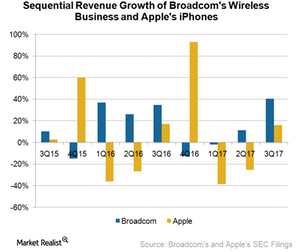 Apple's Production Bottlenecks Impact Broadcom
By Puja Tayal

Updated
Correlation between Broadcom and Apple
Apple (AAPL) has been facing supply issues of several components, which delayed the shipments of its iPhone X. These supply issues not only impacted iPhone production but also delayed the growth of other Apple suppliers.
Broadcom (AVGO) is Apple's largest semiconductor supplier. Broadcom supplies eight communication components for Apple's iPhone, including RF (radio frequency) power amplifier modules, Wi-Fi/Bluetooth combo chips, and GPS chips.
Article continues below advertisement
With every new iPhone generation, Broadcom's content per phone increases as the phone's RF subsystems grow more complex. This increased complexity includes an increase in the number of frequency bands supported by the device and the use of the advanced 4G standard. As a result, in the dollar content per iPhone has grown to 40%.
However, the 2017 iPhone models brought a higher dollar content for Broadcom, as it supplied chips for the wireless charging system.
Impact on Broadcom's earnings
As seen from the chart above, Broadcom's (AVGO) wireless revenues grew one quarter earlier than Apple's iPhone revenues. This growth occurred because Broadcom supplies components that are used inside iPhones.
Calendar 4Q is a peak season for Apple, as its holiday demand spikes. Hence, 2Q and 3Q are strong quarters for Broadcom as it helps Apple prepare for the holiday season sales.
The production bottlenecks in the iPhone X saw Broadcom's 2Q17 sequential revenue growth from its Wireless segment slow to 11.3% from 26.3% in 2Q16. Apple's pending orders in 2Q17 were completed in 3Q17. Hence, Broadcom's 3Q17 sequential revenue growth from its Wireless segment accelerated to 40.6% from 34.6% in 3Q16.
Article continues below advertisement
Apple's iPhone sales fall sequentially in 1Q as holiday demand fades. However, Apple expects its iPhone sales to remain flat in 1Q18. This trend could result from the late launch of the iPhone X and the time Apple took to achieve the demand-supply equilibrium for the new phone. If iPhone demand remains high even in 1Q18, Broadcom could report sequential growth in 4Q17.
Broadcom's interest in Qualcomm
Broadcom (AVGO) has been in the news for the past few weeks. Broadcom made a bid to acquire another major Apple suppliers, Qualcomm (QCOM). This would have been the largest technology takeover to date at $105.0 billion. Although the bid was rejected by Qualcomm's board members, Broadcom is willing to take other measures to acquire the US chip giant.
If this deal were to succeed, Apple's bargaining power over Broadcom and Qualcomm would weaken. Apple is currently in a legal battle with Qualcomm, and it has an upper hand in this fight. If Qualcomm merges with Broadcom, Apple could lose this advantage. In the meantime, Broadcom would enjoy the perks of being an Apple supplier.
Next, we'll see how iPhone X could impact Intel (INTC).