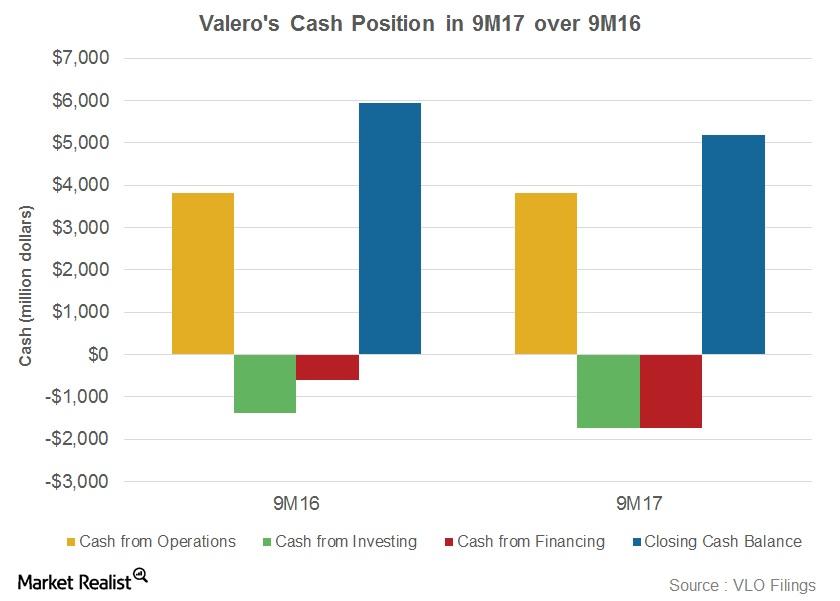 How Valero Used Its Cash Flow Surplus
Valero's cash flow
In the first nine months of this year, Valero Energy (VLO) generated $3.8 billion in cash from operations. The company had a cash outflow of $1.3 billion in the form of deferred turnaround and catalyst costs and capital expenditure, and $936 million in the form of dividends.
Article continues below advertisement
Valero's cash flow surplus
Valero's cash outflow amounted to around $2.2 billion in the first nine months of 2017, including its capex and dividend outflow. This outflow led to a surplus of around $1.6 million.
The surplus in the cash flow was used to fund share repurchases. Valero's share repurchases stood at $951 million in the first nine months of 2017, and the remaining portion of the surplus was used to invest in joint ventures and increase cash reserves. VLO's cash reserves rose from $4.8 billion at the beginning of the year to $5.2 billion after the first nine months of 2017.
Peers' cash flow
Whereas VLO's surplus as a percentage of its cash flow from operations stood at 42% in the first nine months of 2017, Marathon Petroleum (MPC) saw a cash flow surplus of 28%. Conversely, Andeavor (ANDV) and Phillips 66 (PSX) saw a cash flow shortfall of 87% and 36%, respectively. For further details on refiners' cash flow, read How Do Refiners' Cash Flow Positions Look in 2017 So Far?
Are VLO's large shareholder returns warranted?
Valero's shareholder returns have grown steadily. A large part of the company's returns has been share repurchases. VLO has reduced its weighted average shares outstanding by more than 120 million (21%) since 2011, enhancing value for its shareholders regularly. Also, Valero continues to pay dividends steadily.
Despite providing high shareholder returns, VLO holds what is likely to be a sufficient cash reserve, which could help Valero boost growth and handle refining volatility. Also, in most quarters over the past few years, Valero's cash flow has been in surplus. Therefore, VLO has given high shareholder returns without imperiling its liquidity position, a positive scenario for shareholders as well as creditors. Speaking of shareholder returns, in the next part, we'll look at analysts' dividend payment estimates for 1Q18.