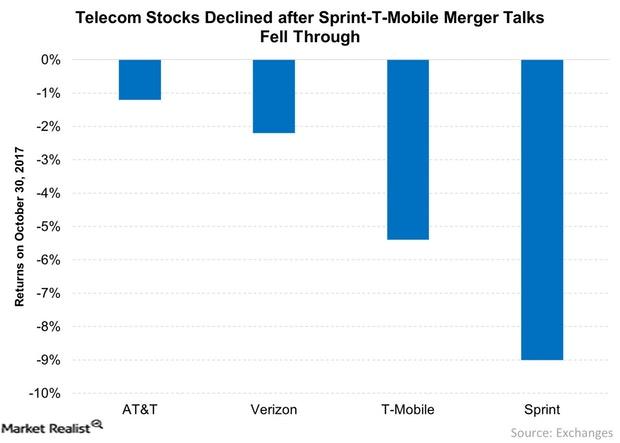 Why Sprint Stock Fell 9% on Monday
Merger talks between Sprint and T-Mobile could be over
While tech stocks are soaring, telecom stocks are having a hard time getting off the ground. According to a report by Nikkei, SoftBank, the Japanese company that has a controlling stake in Sprint (S), is allegedly having talks with Deutsche Telekom, the owner of T-Mobile (TMUS), to stop merger talks.
This sent Sprint stock falling 9% and T-Mobile stock falling ~5.4% on Monday, October 30. The deal would have seen the two companies merge and could have created a large enough entity to challenge Verizon Communications (VZ) and AT&T (T), but these stocks fell 2.2% and 1.2% respectively, on Monday, despite the news.
Article continues below advertisement
Why the deal didn't happen
According to the Nikkei report, the German company wanted a majority share of the combined entity, while SoftBank was not ready to relinquish its control.
Sprint and T-Mobile have had merger talks in the past, but these have fallen through. Back in 2014, the companies held talks, but nothing materialized except regulatory concerns.
While Sprint holds the fourth position in the US telecom market, the carrier is well behind market leader Verizon in terms of scale and subscribers. Sprint stock has fallen 26% YTD (year-to-date), while T-Mobile stock has risen 2.1% YTD.