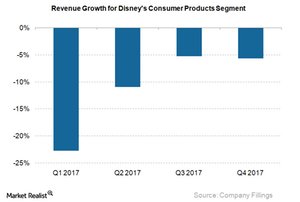 Soft Licensing Business Hurts Disney's Consumer Products Unit
Consumer Products and Interactive Media
Whereas The Walt Disney Company's (DIS) Consumer Products and Interactive Media (or DCPI) segment contributed a mere 9% of the company's total revenue in fiscal 2017, it remains an important part of the company's business as it promotes the company's brand globally.
Recently, the company reported its results for 4Q17, during which DCPI revenue fell 6% YoY (year-over-year) and DCPI operating income fell 12%. Lower licensing revenue, higher third-party royalty expenses, and foreign currency translation brought down DCPI revenue.
Article continues below advertisement
Hit movie releases boost DCPI segment
As shown in the chart above, the DCPI segment's YoY revenue growth has been soft over the last four quarters, with a CAGR (compound annual growth rate) of -4.7%. The DCPI segment is highly dependent on hit movies. Other than Sony's (SNE) Spider-Man: Homecoming and Cars, there were no popular films released in the last nine months of fiscal 2017. This dry run at the box office hurt the segment.
However, the DCPI segment may get a boost in the upcoming quarters with the release of the movie Thor: Ragnarok. The film has already made a strong debut at the box office, with an overall collection of more than $600 million to date. Moreover, Disney will end the year with the release of highly anticipated Star Wars: The Last Jedi, slated for next month. The new Lucasfilm movie may boost the DCPI segment in 2018. The release of popular flicks from the Marvel Cinematic Universe, Pixar's The Incredibles 2, and 20th Century Fox's (FOXA) X-Men: Dark Phoenix may further drive the company's DCPI unit in 2018.