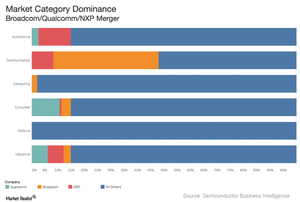 Reading the Regulatory Uncertainties in the Would-Be Broadcom-Qualcomm Deal
By Puja Tayal

Nov. 17 2017, Published 5:25 p.m. ET
Complexities in QCOM-AVGO 
Qualcomm (QCOM) rejected Broadcom's (AVGO) takeover bid, in part, because there's uncertainty surrounding the deal getting regulatory approval due to the layers of complexities in the transaction. Both companies are currently involved in ongoing acquisitions that are facing regulatory resistance, as these acquisitions might hurt competitiveness.
Broadcom is in the midst of acquiring Brocade Communications Systems (BRCD) for $5.5 billion. This deal is being scrutinized by the CFIUS (Committee on Foreign Investment in the United States). Qualcomm is in the midst of completing its biggest acquisition of NXP Semiconductors (NXPI) for $47 billion. This deal is being scrutinized by the European regulators and is pending approval from Chinese regulators.
The AVGO-QCOM deal would likely put the QCOM-NXP deal in jeopardy. European regulators are already scrutinizing the QCOM-NXP deal for antitrust issues. If they review the AVGO-QCOM aspect of the deal, the NXP acquisition might be impacted, and Qualcomm wouldn't likely let that happen.
Article continues below advertisement
Regulatory scrutiny to protect competitiveness
Adding another layer of complexity, Qualcomm is in the midst of a global lawsuit with its key customer, Apple (AAPL), which is also a key customer of Broadcom. A merger of Broadcom and Qualcomm may not sit well with Apple, as it would reduce the latter company's bargaining power.
Meanwhile, Broadcom is considered a competitor of Qualcomm, with several product overlaps. The two are leaders in Wi-Fi and Bluetooth technology and have several complementary product lines and common customers. Qualcomm is already being accused by Apple and other regulators of misusing its dominant position to charge a higher licensing fee. If the Qualcomm-Broadcom deal does proceed, it could come under regulatory scrutiny and most likely face opposition from Apple.
Regulatory challenges in a cross-border acquisition
Broadcom is no longer a US company, after being acquired by Singapore-based Avago Technologies in 2016. This is very likely the reason why Broadcom is having a tough time getting clearance from US regulators for its Brocade acquisition. Now, Broadcom is moving its headquarters to the US to ease its acquisition transactions, but it may not be sufficient to convince US regulators to approve the Qualcomm acquisition.
Still, Broadcom seems determined to pursue Qualcomm, even after the rejection, and may not shy away from using hostile methods to make this deal happen.