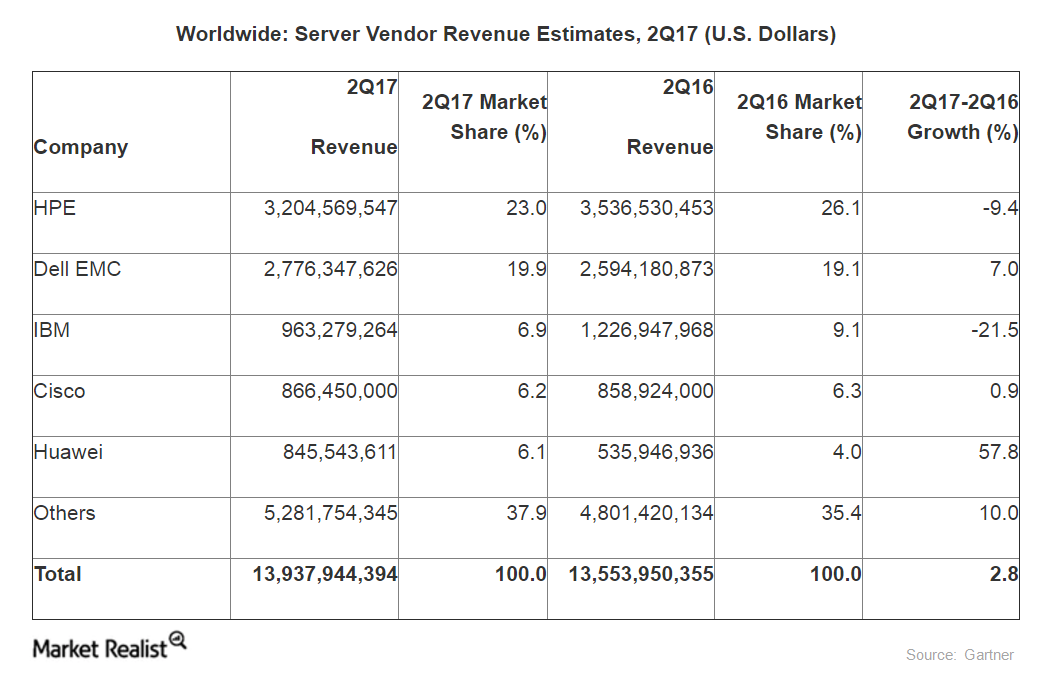 IBM Systems Segment Failed to Benefit from Server Market Growth
By Anne Shields

Dec. 4 2020, Updated 10:53 a.m. ET
HPE continues to lead the server space
Earlier in the series, we discussed IBM's (IBM) Systems segment's performance in the last quarter. Despite growth in the server market after five quarters, IBM's Systems segment failed to benefit from it. Both Gartner and IDC agreed that Hewlett Packard Enterprise (HPE) retained its leading position in the server market. According to Gartner, HPE had a market share of 23% in 2Q17, followed by Dell, which had a market share of 19.9%. According to Gartner, International Business Machines, Cisco Systems (CSCO), and Huawei occupied the third, fourth, and fifth spots, respectively, in this space. They had a market share of 6.9%, 6.2%, and 6.1%, respectively.
Article continues below advertisement
IBM was the worst hit in server space
As the chart above shows, IBM witnessed the highest decline in its market share among the top five players from 2Q16 to 2Q17. In fact, among the top five players in the server market, IBM was hit the worst. All the players except HPE and IBM reported an increase in revenues. IBM's revenue fell the most with a 21.5% decline. As a result, its market share fell to 6.9% in 2Q17 from 9.1% in 2Q16.
Huawei benefited the most from the fall in IBM's market share and was able to enhance its market share position by 210 basis points. Original design manufacturers (or ODMs) are a direct group of players that registered significant year-over-year growth. With a 22.6% market share in terms of revenues, ODMs' revenues rose 48.1% to $3.5 billion in 2Q17, as reported by IDC. The growing dominance of ODMs is posing a threat to IBM's position in the server space.
To read more about ODM's growing presence in the server market, please read How Amazon and Its Peers Affect ODM Growth in the Server Market?