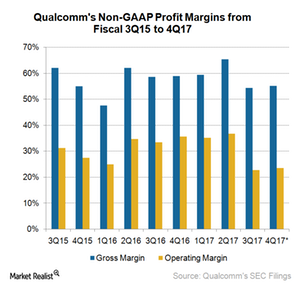 Can Qualcomm Maintain Its Profit Margins in Fiscal 2017?
Profit margins
Apple (APPL) withheld $1 billion in royalty payments to Qualcomm (QCOM) in fiscal 3Q17, which slashed $1 billion directly from Qualcomm's profits. And licensing money is a direct profit for the latter company.
Apple will likely continue to withhold its licensing payments until a court ruling comes. As the lawsuit has taken a nasty turn, things are unlikely to resolve soon and will likely result in lower profit margins for Qualcomm in coming quarters.
Article continues below advertisement
Gross margin
Qualcomm's non-GAAP (generally accepted accounting principles) gross margin dipped 11 percentage points to 54% in fiscal 3Q17, representing a $1-billion decline in gross profits in dollar terms.
The company expects to report a gross margin of 55% in fiscal 4Q17, as profits from its Snapdragon 835 will not likely be able to fill the gap in the licensing profit.
Operating margin
Qualcomm's non-GAAP operating margin fell 14 percentage points to 23% in fiscal 3Q17, which again came to a $1-billion decline. The company's operating expenses are also increasing because it actively spends on R&D (research and development). In the past three months, the company unveiled its 5G modem in a smartphone device. It also entered into several research partnerships aimed at autonomous driving and AI (artificial intelligence).
Article continues below advertisement
Qualcomm's legal expenses are meanwhile increasing on fines from South Korea (EWY) and Taiwan (EWT), and its administrative expenses are increasing as the NXP (NXPI) acquisition faces stringent scrutiny from European regulators. NXP shareholders don't cooperate in tender offers. In its October 2017 tender offer, Qualcomm tendered 3.6% shares of NXP, which was slightly higher than the 3.2% we saw in September.
EPS
Qualcomm's non-GAAP EPS (earnings per share) fell 38% sequentially to $0.83 in fiscal 3Q17—slightly above analysts' estimate of $0.81. For fiscal 4Q17, the company expects to report EPS of $0.80, while analysts are little more optimistic and expect the EPS to remain unchanged at $0.81.
For fiscal 2017, the company expects its EPS to grow 4.5% YoY (year-over-year) to $3.98. Analysts are more optimistic about Qualcomm and expect it to report EPS of $4.17 in fiscal 2017, but this estimate looks unlikely as the company would have to report EPS of $0.99 in fiscal 4Q17 to achieve an annual EPS of $4.17.
Even the most bullish EPS estimate for fiscal 4Q17 is $0.93, and so Qualcomm could—at most—report annual EPS of $4.11 in fiscal 2017.
Next, we'll look at the performance of Qualcomm's business segments.