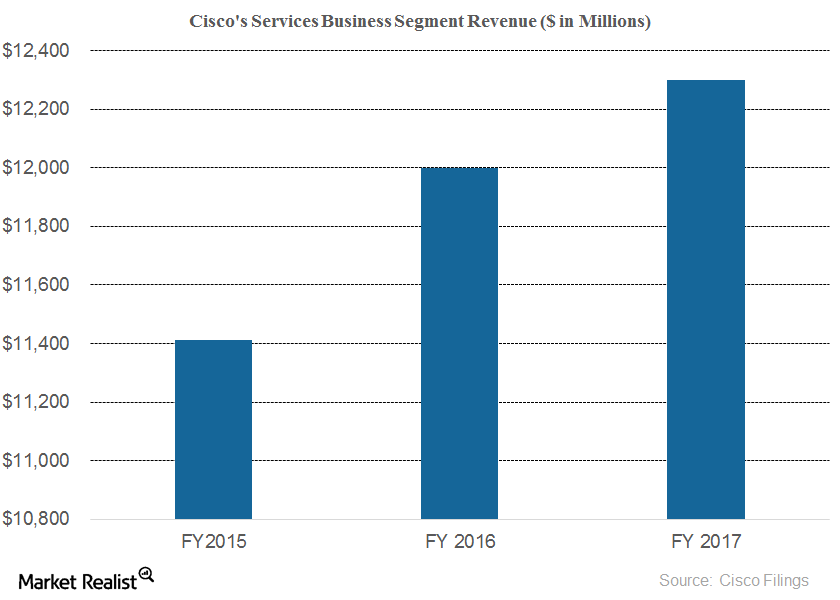 Can Cisco's Services Revenue Rise Again in Fiscal 1Q17?
Revenue rose 3% YoY in fiscal 2017
In fiscal 2017, Cisco Systems' (CSCO) Services business generated revenues of $12.3 billion—a rise of 3% YoY (year-over-year), compared with revenues of $12 billion in fiscal 2016. Services revenues rose 5% YoY in fiscal 2016 and 4% YoY in fiscal 2015.
Services revenues accounted for 25.6% of Cisco's total revenue in fiscal 2017, compared with 24.6% in fiscal 2016 and 24.1% in fiscal 2015.
In fiscal 2017, over 43% of Cisco's revenue came from software and services, while 30% of revenues were recurring in nature. Deferred product revenues from Cisco's software and subscriptions rose 50% YoY in fiscal 2017 to $5 billion. This figure has doubled from the $2.5 billion we saw in fiscal 2015.
Article continues below advertisement
Cisco's second-largest business segment
Cisco's Services segment is its second-largest in terms of revenue, after Infrastructure Platforms. Cisco stated that over 84% of its customers in the Services segment are Fortune 500 companies. According to Cisco, its robust Services portfolio is expected to drive revenues over the next few years.
Cisco expects revenue growth in areas such as machine learning, AI (artificial intelligence), and advanced analytics. The company estimates that Software and Services revenues will account for 30% of total revenues by fiscal 2020, up from 22% in fiscal 2014 and 25.6% in fiscal 2017. Cisco expects its Software revenues to rise at a CAGR (compound annual growth rate) of 12%–15% between fiscal 2017 and 2020.
Cisco's annual report states, "We are adding more software features across our core networking platforms, helping to shift our business model to more recurring revenue streams."