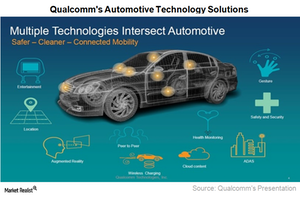 Behind Qualcomm's Efforts in Automotive: Progress Report
Qualcomm in automotive
Other than laptops, mobile, and IoT (Internet of things), Qualcomm (QCOM) is placing a big bet on automotive. In an interview with the Wall Street Journal's chief news editor, Jason Anders, Qualcomm's chief executive Steven Mollenkopf stated that the company has been supplying telematics and in-car infotainment for the past 15 years.
However, automotive architecture is changing as cars become smarter. A smart car has several subsystems that are connected to the Internet. Qualcomm aims to be a part of all these subsystems, and this goal can be easily achieved with the acquisition of the world's largest automotive semiconductor company, NXP Semiconductors (NXPI).
Article continues below advertisement
Qualcomm's organic efforts in autonomous driving
Other than NXP, Qualcomm is making some organic efforts to grow in the autonomous car space. The mobile chip giant has extended its partnership with Mercedes-AMG Petronas Motorsport to develop and test high-speed wireless communications for Formula One. The solutions include 802.11ac Wi-Fi, 802.11ad Wi-Fi, 5G NR (New Radio), cellular vehicle-to-everything, and WiPower wireless charging.
Qualcomm and LG Electronics are jointly opening a research lab in Seoul, South Korea, to develop a 5G telecom solution for autonomous driving. The solution would be four to five times faster than LTE (long-term evolution) and boost vehicle-to-everything connectivity.
Qualcomm eyes China's IoT market
Qualcomm is opening another lab in China (FXI) in collaboration with Thunder Software Technology to develop IoT connected smart cars and also create an IoT ecosystem in China. The laboratory would focus on developing intelligent cockpit and control systems, user interface, and user experience.
Qualcomm also plans to collaborate with Chinese AI (artificial intelligence) company SenseTime Group to develop Snapdragon platforms for AI-enabled mobile and IoT products.
China Economic Information Service expects the country's IoT industry to exceed $231.4 billion by 2020. This has attracted many tech companies to China. Other than Qualcomm, NVIDIA (NVDA) is also eyeing China's IoT and autonomous car markets through its collaboration with Baidu (BIDU).
In the next part, we'll discuss whether investors can expect good news on the NXP acquisition, based on Qualcomm's fiscal 4Q17 earnings call.