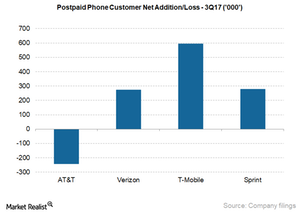 AT&T Is Witnessing Decline in Postpaid Phone Subscribers
Competition hurts postpaid phone subscribers
In addition to a reduction in its US pay-TV customer base, AT&T (T) has also witnessed a decline in postpaid phone subscriber additions in the last few quarters. Postpaid customers are considered more profitable to mobile operators. In 3Q17, AT&T lost 241,000 postpaid phone customers. On the other hand, T-Mobile (TMUS) added a net 595,000 postpaid phone customers. Verizon Communications (VZ) posted an increase of 274,000 postpaid customers, while Sprint (S) added a net 279,000 postpaid subscribers.
Article continues below advertisement
AT&T's management noted that the losses were due to intensifying competition and its shrinking feature phone base. To grow its customer base, AT&T plans to offer attractive unlimited data plans. The company's management expects to build its branded phones and smartphone customer base, as users using high-end smartphones and having postpaid connections are valuable for mobile carrier companies, as they have relatively high mobile data usage.
AT&T's postpaid phone churn in 3Q17 in comparison to its peers
Apart from growing its customer base, AT&T has also been focusing on reducing its churn rate. An increase in churn rate is a concern for telecom companies, as it increases acquisition costs associated with customers, thereby hurting operating margins.
Among the top four most significant mobile players in the US (SPY), Verizon continued to top the postpaid phone customer retention race in 3Q17 followed by AT&T. In 3Q17, Verizon and AT&T had postpaid phone churn rates of 0.75% and 0.84%, respectively. T-Mobile posted a postpaid phone churn rate of 1.2% in 3Q17, better than Sprint's 1.6% in the corresponding quarter.