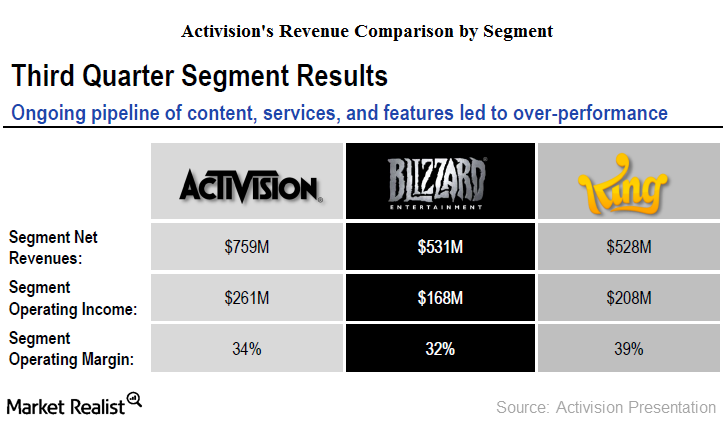 Activision Blizzard's Most Important Metrics
Digital sales rose marginally in 3Q17
Activision Blizzard's (ATVI) digital sales in 3Q17 rose less than 1% YoY (year-over-year) in 3Q17 to $1.35 billion. In the first nine months of 2017, digital sales rose 33% YoY to $5.5 billion. Digital sales accounted for over 83% of total revenue in 3Q17. In the first nine months of this year, retail revenue fell 27% YoY to $1.07 billion.
King Digital drove revenue growth in 2017
Activision drove the firm's revenue in 3Q17 with sales rising 101% YoY to $759 million. King's revenue rose 15% YoY to $528 million while Blizzard's revenue fell 27% YoY to $531 million. In the first nine months of this year, King Digital reported revenue of $1.91 billion, a rise of 67% YoY.
At the end of 3Q17, Activision accounted for 37% of total revenue, followed by Blizzard and King at 34% and 29%, respectively.
Over $1 billion of in-game revenue in 3Q17
Article continues below advertisement
In 3Q17, Activision Blizzard generated over $1 billion from in-game revenues. The Activision segment posted record revenue in the quarter ended September 2017. Further, King's paying players rose for the first time since 1Q16 while gross bookings per paying user rose for the ninth consecutive quarter.
Revenue from console platforms such as Xbox (MSFT) and PlayStation (SNE) rose 17% YoY to $527 million in 3Q17.