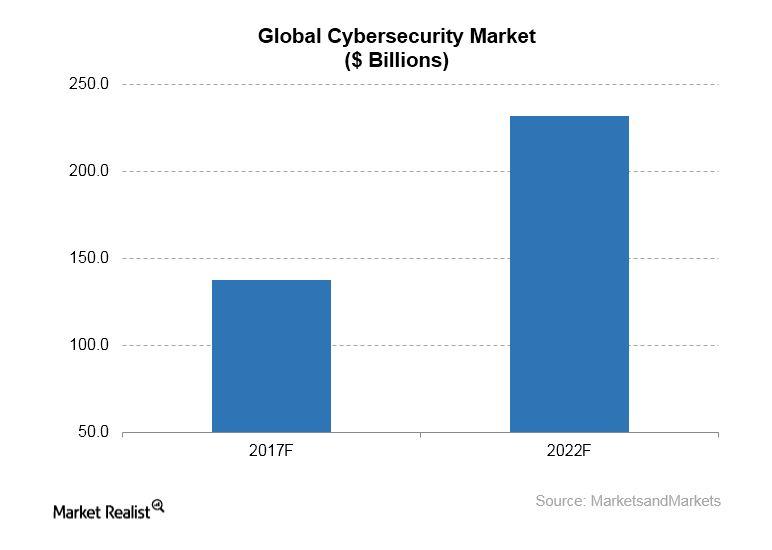 Why Intel Fought to Keep the McAfee Brand
By Ruchi Gupta

Oct. 12 2017, Updated 3:31 p.m. ET
Intel spun off security business
For several months, Intel (INTC) was involved in a pitched legal battle with McAfee. In 2010, Intel bought McAfee for ~$7.7 billion.
As Intel embarked on a strategic shift, it separated its security operations into a new company called McAfee LLC. Intel sold a 51% stake in the business to private investment firm TPG for $4.2 billion.
Although McAfee was a profitable segment for Intel, it was just a tiny part of the company. As such, Intel didn't consider it a strategic fit as it sought to restructure.
Article continues below advertisement
Dispute over McAfee brand
Intel didn't want to drop out of the security market completely, considering the bright prospects for the industry. According to research firm MarketsandMarkets, the global cybersecurity market is expected to surpass $231.9 billion by 2022, compared with an estimated $137.9 billion this year.
Intel's dispute with McAfee was over the ownership of the McAfee brand. McAfee wanted to rename his company, MGT Capital Investments, John McAfee Global Technologies and launch a smartphone called the John McAfee Privacy Phone. However, Intel objected to these uses, saying they would amount to infringement of its trademarks.
Intel and McAfee's agreement
With Intel maintaining an interest in the security industry, it reasoned that having a rival share the McAfee brand would hurt its competitive edge. Plus, Intel has invested a lot of time and money to promote the McAfee brand in the security market, so it stood to lose if a rival easily shared in the success of its marketing efforts.
Intel and McAfee settled their dispute in July 2017, with Intel successfully blocking McAfee from using the McAfee brand in the name of his company or products and services related to security.
In the security market, Intel's McAfee competes with Symantec (SYMC), CheckPoint Software Technologies (CHKP), Cisco Systems (CSCO), and FireEye (FEYE). In 2Q17, Symantec, CheckPoint Software Technologies, and FireEye reported revenue growth of 35.2%, 8.6%, and 6.0% year-over-year, respectively. Cisco Systems bucked the trend as its fiscal 4Q17 (quarter ended July 2017) revenues fell 4.0% year-over-year.
Correction: An earlier version of this article claimed that John McAfee sold McAfee to Intel in 2010. We have updated the article to reflect the fact that McAfee sold to Intel as a company, given that John McAfee had not been part of the company since before 2010.