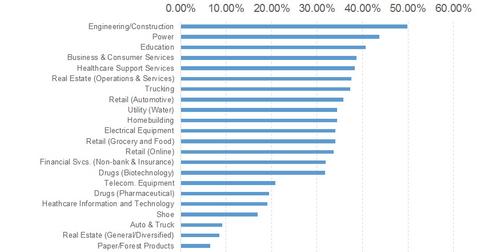 Which Sector Could Benefit the Most from Trump's Tax Cuts?
By Ricky Cove

Updated
Markets could get a positive surprise
The effective rate paid by corporations in the US varies based on the type of industry, size of the company, and location. Different companies could thus benefit differently from the Trump administration's proposed tax cuts.
Article continues below advertisement
Companies that could benefit from the low tax window
One possibility is that the low tax window for profit repatriation would add to the list of winners from the proposed tax reform. According to GOP's proposed framework, a low tax of 8.75% on cash and a 3.5% tax on foreign earnings could result in cash flow of as much as $250 million dollars into the US economy.
The list of possible winners from this move would likely consist primarily of mammoth tech companies like Apple (AAPL), Cisco Systems (CSCO), Qualcomm (QCOM), and Microsoft (MSFT). These companies could invest the saved funds or distribute the funds as dividends.
Energy would win
Apart from the tech sector, companies in the higher tax bracket could also benefit from the proposed tax reforms. US-based companies pay, on average, a 27% tax on income, and companies that pay a lower tax than this—mostly tech and healthcare companies—might not benefit much.
The clear winner in the proposed tax plan is the energy sector, which pays the highest effective tax rate of nearly 38%. With oil prices near the $50 mark and the possibility of a better tax rate, energy companies (XLE) are likely to remain on the radar of many investors.
In the next and final part of this series, we'll discuss how US bond markets could react to these proposed tax reforms.