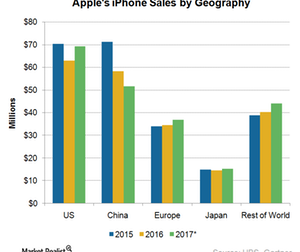 Qualcomm Takes Its Apple Licensing Dispute to China
By Puja Tayal

Updated
Qualcomm–Apple licensing dispute gets ugly  
Qualcomm (QCOM) has gained a lot of media attention around the world because of its lawsuit against Apple (AAPL) over licensing issues. Apple claims that Qualcomm's licensing model of charging royalties on the selling price of end devices is unfair, as the chip supplier ends up earning royalties even on technologies it has no connection with.
This legal battle took a nasty turn, expanding into the key markets of both companies. Apple expanded the battle from the United States to Europe, South Korea, and Taiwan, which saw some countries' regulators charge Qualcomm a fine for its licensing practices.
On the other hand, Qualcomm expanded the battle to the United States, Germany, and China (FXI), seeking a ban on the sale and manufacture of iPhones. Apple wasn't much impacted by Qualcomm's move, but Qualcomm's recent attack in China has caught the attention of the handset maker.
Article continues below advertisement
Qualcomm takes its war with Apple to China
Qualcomm filed patent infringement lawsuits against Apple in the Beijing intellectual property court on September 29, according to a Bloomberg report. The details of Qualcomm's complaints weren't revealed, but experts believe that among the three non-standard essential patents in the lawsuit, two were power management technology and a touch-screen technology called Force Touch.
Qualcomm seeks injunctive relief and has asked the court to ban the manufacture and sale of iPhone models containing the infringed patents. Although Qualcomm didn't state which iPhone models would be affected, Qualcomm's spokeswoman Christine Trimble stated that they're the iPhone 7 models, as they have those two technologies under question.
Responding to Qualcomm's lawsuit, Apple spokesman Josh Rosenstock stated that there's no merit to the claim and the lawsuit is likely to fail like other courtroom maneuvers.
The Bloomberg report stated that Qualcomm filed a lawsuit in China, as the Chinese court would have a different approach to the case than the US court. In 2016, a Beijing court banned Apple's iPhone 6 and 6 Plus models because their design was similar to the Shenzhen Baili 100C smartphone. However, this ruling was overturned in Apple's favor in 2017.
Next, we'll see how the China attack could impact Apple.