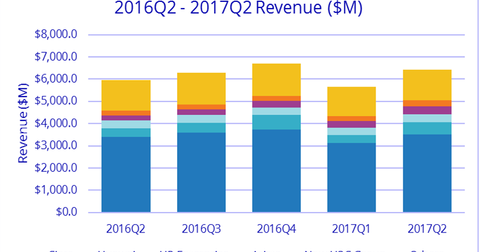 Juniper's Switching and Routing Segment in 3Q17: Expectations
By Adam Rogers

Updated
The ethernet switch market rose 8% YoY in 2Q17
According to market research firm IDC, the worldwide ethernet switch market rose 7.8% YoY (year-over-year) to $6.43 billion in 2Q17. Ethernet revenue was driven by markets in MEA (the Middle East and Africa) and Asia-Pacific, rising over 16%.
The worldwide enterprise and service provider router market rose almost 7% YoY as well to $3.92 billion in 2Q17. Large-service provider revenue rose 11.2% YoY while enterprise routing revenue fell 7.1% YoY in 2Q17. According to IDC's press release, "This will be a market to watch closely over the coming quarters as software-defined architectures start to take hold across the WAN, with the potential for SD-WAN to disrupt traditional routing architectures and WAN transport services markets especially at the network edge."
Cisco continues to lead the ethernet switching market
Cisco (CSCO) led the ethernet switching market with a share of 54.7% in 2Q17, down from 55.1% in 1Q17 and 56.8% in 2Q16. Its enterprise router and service provider share fell to 41.2% in 2Q17, compared to 43.9% in 1Q17 and 44.8% in 2Q16.
Article continues below advertisement
China's (FXI) Huawei has continued to improve revenue and market share significantly in these markets. Its ethernet revenue rose 40% YoY with a market share of 8.5% in 2Q17, up from 6.5% in 2Q16. Enterprise and service provider router revenue also rose over 40% and Huawei now has a share of 25.2% at the end of 2Q17. Hewlett Packard Enterprise (HPE) and Arista are other major players in switching with market shares of 5.6% and 5.5%, respectively.
In 2Q17, Juniper's (JNPR) switching revenue rose 32% YoY to $276 million, whereas its routing revenue was flat YoY at $572 million. Juniper had a 4.3% share in switching and a 14.6% share in routing at the end of 2Q17.