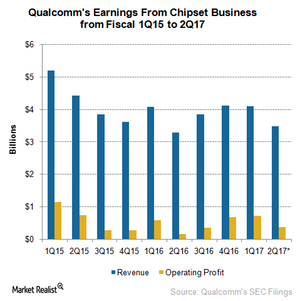 How Does Qualcomm Look to Boost Chipset Business amid a Slowdown?
By Puja Tayal

Oct. 11 2020, Updated 12:01 p.m. ET
Qualcomm's Chipset business
In the previous part of this series, we saw that Qualcomm's (QCOM) earnings are improving as it recovers from the 2015 headwinds. However, there is not much scope for growth in QCT (Qualcomm CDMA Technology) business, which accounts for 68% of the company's revenues, except in China (FXI).
Chips are sold in the commodity market where the lowest price takes the business. The only way to profit from this market is by reducing costs and selling in volumes.
Article continues below advertisement
QCT business in fiscal 1Q17
Despite the holiday season, QCT revenues were sequentially flat at $4.1 billion in fiscal 1Q17. On a YoY (year-over-year) basis, QCT revenues fell 1% indicating decelerating growth in the smartphone market.
However, the segment's operating margin improved from 14% in fiscal 1Q16 to 18% in fiscal 1Q17 as demand for its new high-end products improved and costs reduced.
Qualcomm's Chipset business grows in China 
While growth is decelerating in the overall chipset market, things are different in China. A research report by Rosenblatt Securities analyst Jun Zhang, stated that Qualcomm's Snapdragon processors are used by Chinese handset makers Oppo, Vivo, Xiaomi, and Meizu. These companies are enjoying strong sales growth, which could also benefit Qualcomm.
Zhang expects Qualcomm's Snapdragon shipments in China to increase from ~8 million units in March 2016 to ~28 million units in March 2017. He expects Qualcomm's market share to grow from 50% in 2016 to 65% in 2017, driven by strong demand from Chinese handset makers.
Article continues below advertisement
Qualcomm's outlook for the mobile market
Qualcomm (QCOM) estimates that global 3G/4G device shipments rose 8% YoY to ~1.6 billion devices in 2016. It expects this growth to slow to 7% YoY to 1.8 billion devices in 2017.
On the pricing front, the company estimates that the handset ASP (average selling price) fell 6% YoY to $185 in 2016 compared to a 12% decline in 2015. It expects this decline to moderate further in fiscal 2017 and beyond.
Qualcomm's growth efforts in its Chipset business
Qualcomm (QCOM) is looking to boost its Chipset segment's revenues and has partnered with Microsoft (MSFT) to bring Snapdragon to mobile devices such as laptops. This market is expected to grow to $6 billion in 2020.
The next big growth would come in the adjacent markets of virtual reality, IoT (Internet of Things), and autonomous cars. Qualcomm is moving rapidly in this space by developing the Snapdragon 835 processor for IoT devices.
Next, we'll look at the features of new processor.