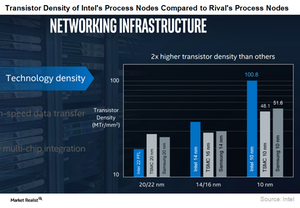 How Could the Cannon Lake Delay Impact Intel?
By Puja Tayal

Oct. 30 2017, Updated 1:10 p.m. ET
Intel delays Cannon Lake once again
Intel's (INTC) 10nm (nanometer) node was due to launch sometime in 2017. Whereas we'e almost at the end of the year, there has been no news of the 10nm node hitting production. In fact, a report by DigiTimes stated that Intel has delayed the 10nm Cannon Lake node for the third time and it is now expected to come online by the end of 2018.
On the other hand, production has started for Samsung's (SSNLF) Exynos processor and Qualcomm's (QCOM) Snapdragon 835 processor on its 10nm node. TSMC (TSM) started production of Apple's (AAPL) A11 processors on its 10nm node in 2Q17.
Article continues below advertisement
Is Intel losing its process technology leadership?
As shown in the above graph, TSMC's and Samsung's 10nm nodes have higher transistor density than Intel's 14nm node. Even if Intel claims that its 10nm node is superior to its rivals' 10nm node, the delay in the launch of the node has given rivals a lead.
By the time Intel's 10nm node starts production in late 2018, TSMC and Samsung will have their 7nm processes in production, which could reduce the technological advantage of Intel's 10nm node. According to a report by ZDNet, Samsung has completed the development of its 8nm node using the same technology it uses for the 10nm node. The 8nm node will reduce cost and size by 10%.
If Intel loses its technology lead, it will not be able to charge a higher price for its processors, thereby reducing the returns on its multibillion-dollar investments. Furthermore, the Cannon Lake delay has impacted the plans of notebook vendors, which may move to the Ice Lake processor instead. The slowing of process technology has not only reduced the technology gap but also the earnings gap between Intel and competitors., which we'll discuss in the next part.