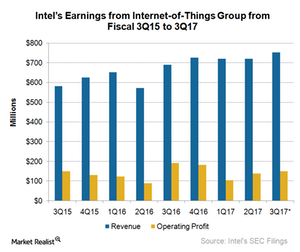 Can Intel's IoT Business Replace PC?
By Puja Tayal

Updated
Intel's IoT Group
As Intel (INTC) transitions to the data-centric businesses, its IoTG (Internet of Things Group) business will likely be its major revenue driver. Intel is betting big on the IoT business and expects this to replace its PC (personal computer) business.
Intel's IoTG business has been growing at an average annual rate of 18%—slow in the effort to replace its PC business with IoT—and so it has changed its IoT strategy to focus on the high-margin, high-growth industrial and automotive markets.
Intel has been channelizing the profits from the PC business to invest in IoT research and development and AI (artificial intelligence) acquisitions. IoTG's operating margin of less than 20% is lower than the overall company's margin of 28%.
Article continues below advertisement
Updates on Intel's IoT efforts
Intel has discontinued several products in the Quark line, which include ultra-low-power microcontrollers for low-cost IoT devices used in smart buildings and retail, industrial, energy, and other sectors. It's now focusing on the high-margin consumer segments of healthcare and smart home.
Smart home
Intel has partnered with Amazon.com (AMZN) to help developers to embed the latter's Alexa voice control capabilities into smart home devices. Intel will soon offer its Speech Enabling Developer Kit, which offers algorithms for echo cancellation and beamforming, wake words, an 8-mic array, and a dual digital signal processor.
The kit would enable developers to deliver high-quality far-field voice recognition technology in acoustically challenging environments.
Healthcare
Intel has launched its new HAP (Health Application Platform) and hardware design specification to improve remote patient care services. Remote care providers depend on smartphones and tablets to assist patients outside hospitals, but these devices become unreliable, with software updates amid challenges such as data security, high cost, incompatible technologies, and compliance issues.
Intel's HAP addresses these concerns by integrating the Android software platform with hardware provided by Flex. The close link between software and hardware eliminates disruptive software updates, closes ports vulnerable to attack, and enhances encryption of data.
Intel's HAP only connects to devices it recognizes, separates regulated and non-regulated device data, and sends this data to the care provider's cloud through a private and secure connection.