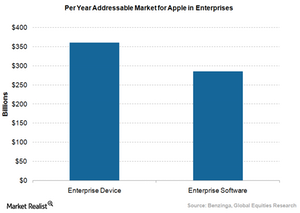 Apple Is Seeing Strong Interest for iPhones, but from Somewhere New
By Puneet Sikka

Oct. 11 2020, Updated 12:34 p.m. ET
Apple, IBM, and Cisco in the enterprise market
Apple's (AAPL) initiatives to penetrate the enterprise market have already started to bear fruit. According to Apple: "We continue to see very strong interest in iPhone not only with consumers but also with business users. Among corporate buyers planning to purchase smartphones in the March quarter, 451 Research found that 79% planned to purchase iPhones. That is the highest iPhone purchase intent in the eight-year history of the survey."
Article continues below advertisement
Apple entered into a long-term partnership with IBM (IBM) in 2014 and then collaborated with Cisco (CSCO) in August 2015. Along with IBM, Apple has released more than 100 apps in the "IBM mobile first for iOS" program. Some of the sectors that these apps are useful for are healthcare, financial services, industrial, and travel and transportation.
BlackBerry's Apple challenge in the enterprise software market
Apple also mentioned that its "partnership with Cisco has gained significant momentum." Under this partnership, Apple's devices will be integrated with Cisco's network systems. In other words, companies that run on Cisco's Internet networks will be able to transfer content securely and quickly to iPhone and iPad devices. Apple also continues to expand its mobility partner program. Apple mentioned that it added around 25 partners in 4Q15, for a total of 90 partners.
Apple is looking to leverage the large and growing enterprise market. According to a report from Benzinga (citing Global Equities Research), the enterprise device market is a $360 billion-per-year opportunity, and enterprise software is a $285 billion-per-year opportunity for Apple.
Such rapid progress made by Apple in the enterprise market is bound to challenge the Canadian (EWC) company BlackBerry (BBRY) in its area of strength. BlackBerry is already avoiding a direct challenge to Apple in the smartphone market, but in the enterprise software market as well, it will now find difficulties. Meanwhile, BlackBerry has high hopes from its BES12 (BlackBerry Enterprise Server) solution.