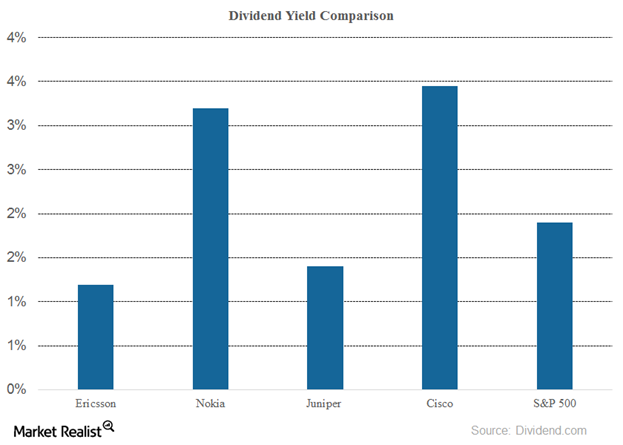 A Look at Nokia's Financial Metrics
By Adam Rogers

Oct. 10 2017, Updated 6:05 p.m. ET
Dividend yield
Nokia (NOK) currently has a dividend yield of 3.2%, or $0.05, which indicates an annualized dividend payout of $0.19. Nokia has a dividend payout ratio of 67.8%, and its dividend yield has risen 86% since 2016. Juniper (JNPR), Ericsson (ERIC), and Cisco (CSCO) have dividend yields of 1.2%, 3.2%, and 3.5%, respectively.
Article continues below advertisement
Cash balance
At the end of 2Q17, Nokia had a cash balance of $10 billion, operating cash flow of $1.6 billion, and levered cash flows of $134.9 million. Nokia's total debt is $4.8 billion, indicating that the firm's cash balance can easily meet interest and debt requirements.
ROA, ROE, and PE
Nokia's return on assets (or ROA) is 1.6% and return on equity (or ROE) is -1.9%. The firm has a forward PE ratio of 6.47x. Peer companies Ericsson, Cisco, and Juniper have forward PE ratios of 22.72x, 13.17x, and 12.11x, respectively.
Nokia has generated returns of 3.9% in the trailing 12 months compared to returns of 17.8% for the S&P 500 (SPY). Nokia has a beta of 1.02, while Ericsson (ERIC), Juniper (JNPR), and Cisco have a beta score of 1.2, 1.5, and 1.5, respectively.
Nokia is currently trading at $5.93, which is 47% above its 52-week low of $4.04 and 11% below its 52-week high of $6.65.