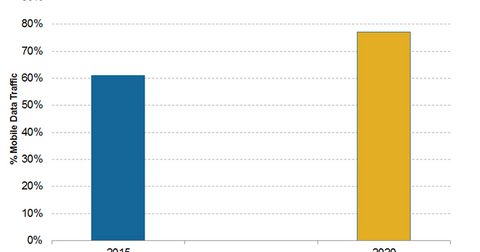 Understanding Charter's MVNO-Based Wireless Strategy
By Ambrish Shah

Updated
Charter's focus on its wireless business
Charter Communications (CHTR) has become increasingly focused on its wireless business. In June 2017, there were rumors that Charter and Comcast (CMCSA) were looking at a wireless partnership with Sprint (S), but Charter rejected SoftBank's proposal because it didn't see Sprint as a strategic fit for its long-term aspirations.
Charter argues that it is capable of launching its own wireless operation and intends to roll out a wireless service in 2018, following in the footsteps of Comcast, who recently launched Xfinity Mobile.
Article continues below advertisement
Charter has agreed to form a wireless alliance with Comcast to explore ways to cooperate in driving additional value for wireless subscribers. Comcast and Charter have a reseller agreement that empowers them to launch their own wireless operations with the help of Verizon Communications' (VZ) network. Comcast's Xfinity Mobile wireless service is based on Verizon's infrastructure.
According to a FierceCable report on July 27, 2017, Charter likes its MVNO (mobile virtual network operator) and its "relationship with Comcast, and we do think the [wireless] industry has a lot of challenges."
The rise in mobile video traffic
The increasing focus on the wireless business from telecommunications and media firms has been due to the growth in mobile video traffic. According to Cisco Systems' (CSCO) VNI (visual networking index), it's expected that by the end of 2020, video could make up ~77% of mobile data traffic in the US.