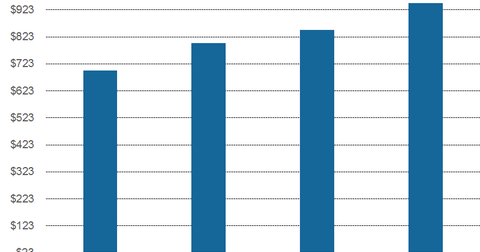 Telecom Carrier Discounts for Apple's New iPhones
By Adam Rogers

Sep. 15 2017, Updated 1:11 p.m. ET
T-Mobile and Verizon
We know the base price for Apple's (AAPL) 4.7-inch iPhone 8, 64 GB model, is $699, whereas the price for the 5.5-inch iPhone 8 Plus with 256 GB storage is $949. Telecom carriers in the United States have been offering discounts on iPhones to attract customers over the last few years. According to an AppleInsider report, "T-Mobile announced a trade-in deal that nets customers up to $300 to put toward an iPhone 8, 8 Plus or iPhone X purchased as part of an installment plan. Customers who turn in an iPhone 6 or newer in decent condition will receive their discount via 24 monthly bill credits."
Article continues below advertisement
Verizon (VZ) also announced a similar plan where customers can get a discount of $300 for the iPhone 8 and iPhone 8 Plus on the purchase of an unlimited plan. Verizon stated that customers upgrading from an iPhone 7, iPhone 7 Plus, iPhone 6S, and iPhone 6S Plus are eligible for a discount of $300. In comparison, customers upgrading from an iPhone 6, 6 Plus, and SE will get a $200 discount while iPhone 5 holders will get a discount of $100. Verizon will also pay the discount to customers over two years.
AT&T and Sprint
AT&T (T) has offered a "buy one, get one free" offer to iPhone customers, subject to certain terms and conditions. This deal is offered to existing DirecTV or U-Verse customers. Also, the iPhones need to be purchased through AT&T's device leasing program with a service lock-in for two years.
Sprint (S) has offered a 50% discount on the trade-in of higher-end smartphones such as the iPhone 6 or any device launched later—including some Android phones from Google, Samsung, and Motorola. This 50% discount is offered via a lease (the period is 18 months) and covers 75% of the iPhone's price. The customer has an option of returning the iPhone to Sprint after 18 months or paying $175 to retain the phone, meaning a total discount of 38% of $260.