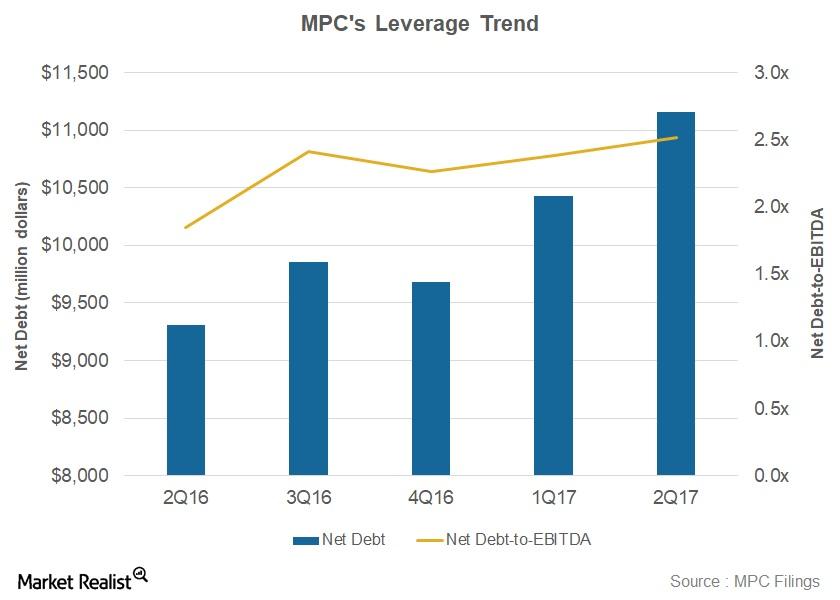 How Is Marathon Petroleum's Leverage Trending?
By Maitali Ramkumar

Dec. 4 2020, Updated 10:53 a.m. ET
Marathon Petroleum's leverage
So far, we've looked at Marathon Petroleum's (MPC) market performance. Now, let's analyze its financial and operational performance, beginning with its leverage position.
MPC's net debt-to-EBITDA (earnings before interest, tax, depreciation, and amortization) stood at 2.5x in 2Q17. That's higher than the average industry ratio of 2.3x. The industry average considers eight American refining companies. The ratio represents a company's debt level as a multiple of its earnings.
In 2Q17, MPC's total debt-to-capital ratio stood at 38.0%, which was higher than the industry average of 35.0%. Usually, everything else being equal, a lower ratio signifies a healthier leverage position and better capacity to repay debt.
Andeavor (ANDV), Valero Energy (VLO), and Phillips 66 (PSX) have total debt-to-capital ratios of 38.0%, 30.0%, and 30.0%, respectively. For further details, you can refer to A Look at Refiners' Leverage in 2Q17.
Article continues below advertisement
MPC's net debt-to-EBITDA trend
MPC's net debt-to-EBITDA ratio rose from 1.8x in 2Q16 to 2.5x in 2Q17. Before analyzing the increase of the ratio, let's understand the net debt position.
Marathon Petroleum's net debt rose from $9.3 billion in 2Q16 to $11.1 billion in 2Q17. That was due to a rise in total debt coupled with a fall in cash and equivalents. In 2Q17, its total debt stood at $12.6 billion, and its cash and equivalents were $1.5 billion.
MPC's EBITDA fell in 2Q17 from 2Q16 due to weaker earnings in its refining business. A fall in EBITDA, coupled with a rise in net debt, led to an increase in its net debt-to-EBITDA multiple in 2Q17 over 2Q16.
Marathon Petroleum's leverage analysis
Marathon Petroleum's solvency ratios are higher than the industry average, which is not a comfortable situation. Its restructuring exercise is progressing according to schedule, but its debt rose on a consolidated basis due to the execution of drop-down in 1Q17. Now, in 3Q17, MPC carried out its second drop-down, and the effects should be visible in the upcoming results. With the restructuring exercise in progress, MPC will need to keep a check on its debt level so its financial strength and flexibility are maintained going forward.