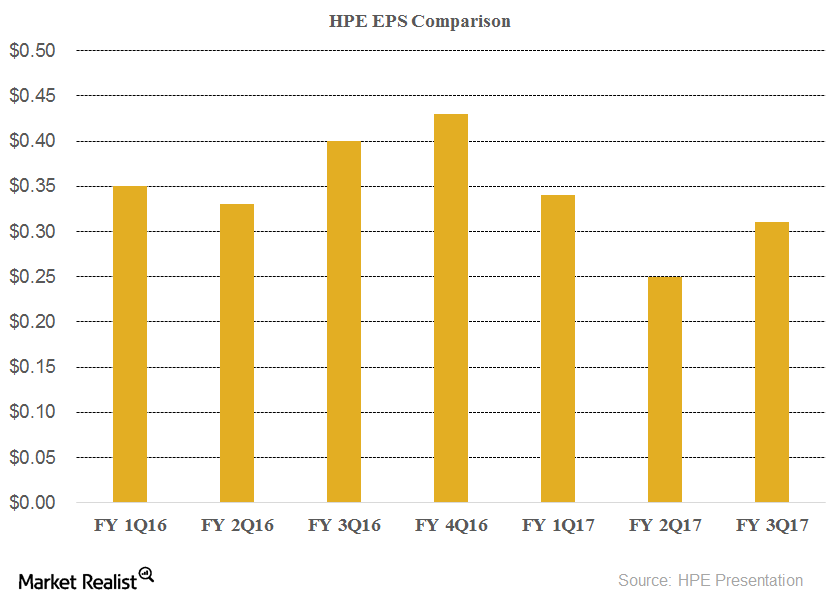 How Hewlett Packard Enterprise Plans to Improve Profit Margins
By Adam Rogers

Dec. 4 2020, Updated 10:53 a.m. ET
HPE Next
In the previous part of this series, we saw that Hewlett Packard Enterprise (HPE) is looking to save between $200.0 million and $300.0 million in costs during the second half of fiscal 2017. In a sluggish demand environment with rising commodity prices, HPE may need to improve its profit margins to offset a decline in revenue.
Although HPE has become a smaller organization driven by several spin-offs and divestitures, its operating costs have been rising. HPE stated that a smaller and leaner organization will help it reach strategic goals and objectives faster, primarily driven by an efficient operating model.
In fiscal 3Q17, HPE announced HPE Next, which is aimed at simplifying customer engagement, sales compensation, and order processing. HPE expects gross savings of approximately $1.5 billion over the next three years arising from the HPE Next program.
HPE has allocated $200.0 million in fiscal 4Q17 to fund HPE Next. In addition, the company will use funds from real estate sales and lower-than-expected separation costs for this initiative.
Article continues below advertisement
Employee layoff
Last week, Hewlett Packard Enterprise announced that it's planning to cut approximately 10.0% of its total workforce, or 5,000 employees, by the end of 2017. The company is trying to cut expenses in light of stiff competition that's eroding its profitability.
HPE's revenue in fiscal 2Q17 fell 13.0% YoY (year-over-year), while its EPS (earnings per share) fell 24.0% YoY. In fiscal 3Q17, EPS fell 22.5% YoY compared to a rise of 3.0% in revenue.