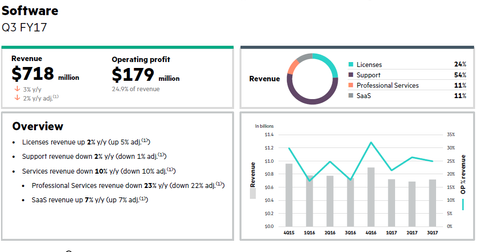 Hewlett Packard Enterprise Closes Micro Focus Acquisition
By Adam Rogers

Updated
Deal closure announced last week
On September 1, 2017, Hewlett Packard Enterprise (HPE) announced the completion of a spin-off with Micro Focus and its software business. According to the terms of this spin-off, Hewlett Packard Enterprise (HPE) shareholders received $2.5 billion in cash and $6.5 billion in Micro Focus shares.
In a news release last Friday, HPE CEO (chief executive officer) Meg Whitman noted that HPE is now becoming stronger and gathering its focus, specifying that HPE and its stockholders stand to gain ~$8.8 billion from the deal.
After the spin-off, HPE will have two reporting business segments, Enterprise Group and Financial Services, which together generated revenues of $7.7 billion in fiscal 3Q17.
HPE's Software segment, which will now be a part of Micro Focus, reported revenues of $718 million in fiscal 3Q17. Revenues fell 3% YoY (year-over-year), driven by a decline in the firm's support and services verticals and offset by growth in licenses revenue.
Article continues below advertisement
Deal under scrutiny?
The HPE-Micro Focus spin-off has reportedly come under scrutiny due to inversion regulations. The two firms will need to comply with anti-inversion rules that were set up by the US IRS (Internal Revenue Service) in 2016.
Notably, anti-inversion rules led Pfizer (PFE) and Allergan (AGN) to shelve plans for their $160 billion merger last year.