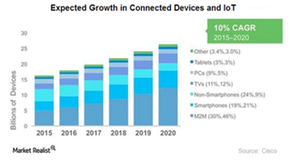 Dish Network's Business Strategy Regarding the Internet of Things
By Shirley Pelts

Updated
Dish's build-out of its IoT network
Dish Network (DISH) expects the Internet of Things (or IoT) to expand significantly in the next couple of years. The company elaborated on its IoT strategy during its 2Q17 earnings call on August 3. Dish stated that it believed that IoT was still in the narrowband phase, or in the 4G (fourth generation) phase, which does not demand a lot of Dish's spectrum capacity.
As a result, Dish Network believes that for IoT to work, a 5G (fifth-generation) network is essential. The company expects that the IoT business is more likely to take off in 2021 or 2022.
Dish Network is in the process of building out its IoT network and has mapped out the radio frequency plan for each of its spectrum license areas. The company is in the process of negotiating contracts with vendors that provide radio access, and it is also holding discussions with tower companies.
Article continues below advertisement
As a result, Dish expects to build out its network for both AWS-4 (Advanced Wireless Services) and E block spectrum by March 2020. According to FCC guidelines, a spectrum license can be revoked if a company does not provide wireless service to a minimum of 40% of the population in a particular geographic area during a stipulated time.
Why Dish Network is betting on connectivity
Many companies in the technology sector are focusing on Internet of Things as the next wave in the industry. These companies include Cisco Systems (CSCO), IBM, Microsoft (MSFT), and Salesforce (CRM), which are also pursuing acquisition strategies and partnerships to chase growth in the IoT space.
Currently, the dominant technology in the IT environment is SMAC (social, mobile, analytics, and cloud). However, the next phase of the computing cycle is expected to be driven by VR (virtual reality), AR (augmented reality), IoT, and AI (artificial intelligence) technologies.
Industry observers expect that these technologies could drive $13 trillion in potential spending.