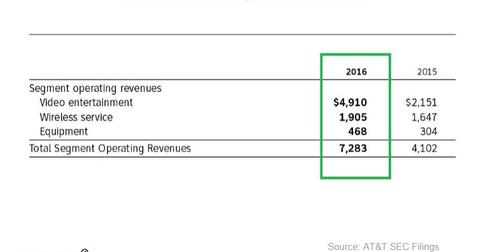 What's in the China Telecom Deal for AT&T?
By Ruchi Gupta

Updated
Supporting multinationals in China
AT&T (T) and China Telecom (CHA) recently announced the signing of a framework agreement aimed at strengthening their cooperation. The companies want to work more closely in developing an advanced network service aimed at supporting the operations of multinational companies doing business in China (MCHI).
AT&T and China Telecom are thus putting their best feet forward to jointly create communication solutions built around cloud computing, SDN (software defined networks), and IoT (Internet of Things).
But a closer look at this new framework agreement also reveals that the SST (Shanghai Symphony Telecommunications) joint venture has been a success, and partners would like to stick together to explore more opportunities jointly.
Article continues below advertisement
Expanding the scope of SST
The SST joint venture emerged from a 2000 deal between AT&T, China Telecom, and Shanghai Information Investments. The 20th anniversary of SST is quickly approaching, and the new framework of the deal all but suggests the partners' intension to renew the authorization of SST.
The renewal of the SST mandate is expected to expand the scope of the joint venture as well as the locations it serves.
Driving international revenue growth
In deepening its ties with China Telecom and in speaking about expanding the scope of the SST joint venture, AT&T appears eager to accelerate the growth of its international business. As a company facing intense competitive pressure at home from rivals such as Verizon Communications (VZ), T-Mobile (TMUS), and Sprint (S), AT&T clearly wants to utilize every opportunity it can get its hands on.
Notably, AT&T's international operations brought in revenues of ~$4.9 billion in 2016, which was up sharply from its ~$2.2 billion in 2015.