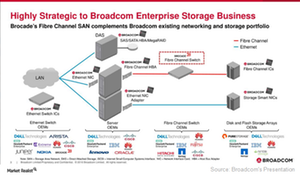 The State of the Broadcom–Brocade Merger
By Puja Tayal

Updated
Broadcom–Brocade merger delayed
Broadcom's (AVGO) current business has faced several recent legal and security challenges. The company's $5.9 billion acquisition of Brocade Communications Systems (BRCD), which it announced in November 2016, is facing regulatory scrutiny. As a result, the acquisition has been delayed by about 75 days.
Originally, Broadcom planned to complete the acquisition by July 31, 2017. However, vendors withdrew their original notice and refiled for a 30-day review by the CFIUS (Committee on Foreign Investment in the United States) on July 18, 2017. This 30-day review would be followed by another 45-day review, thereby delaying closing the deal to October 28 or November 1, 2017.
Article continues below advertisement
This extended review has created uncertainty over the acquisition, as there is no assurance that CFIUS may approve the deal. CFIUS reviews deals, which would hand over control of a US business to a foreign person, for any national security implications. It earlier rejected Tsinghua's offer to acquire Micron (MU) and a stake in Western Digital (WDC).
Other concerns regarding the Broadcom–Brocade deal
Many analysts warned that the Broadcom–Brocade deal could attract regulatory scrutiny, as the combined company would have a monopolistic position in the FC (fiber channel) hardware market. As a result, this position could impact other rivals such as Cisco Systems (CSCO) and Cavium (CAVM).
The deal was questioned by the European Commission earlier in 2017. However, the regulator approved the deal on the fulfillment of certain conditions. Even if CFIUS approves the deal, the two companies would still have to secure antitrust approval from China.
Article continues below advertisement
Who would be affected by the Broadcom–Brocade merger?
The delay of the Brocade acquisition has delayed other acquisitions as well. Broadcom wanted to acquire Brocade for its FC networking business. So, the former agreed to sell Brocade's Ruckus Wireless and ICX Switch business to Arris for $800 million and Brocade's Ethernet switch and router business to Extreme Networks for $55 million.
The other two acquisitions are contingent on the closing of the Broadcom–Brocade deal.
Is Broadcom involved in the bid for Toshiba's NAND business?
Although the Brocade acquisition is still uncertain, rumors have been floating around that Broadcom is bidding for Toshiba's (TOSBF) NAND business. Many analysts questioned Broadcom's management about these rumors during its the fiscal 2Q17 earnings call, but the company's management did not comment on it.
Only time will tell which deal goes through and which does not. In the meantime, Broadcom is tapping growth in the communications semiconductor market to drive its fiscal 2017 earnings. We'll look at the company's earnings in the coming few parts of this series.