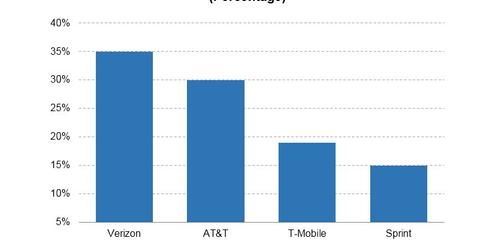 Sprint Brings More Attention to the AT&T-Time Warner Deal
By Ruchi Gupta

Updated
Sprint's maneuvers and implications of a wireless deal
A number of claims have been made against allowing AT&T (T) and Time Warner (TWX) to combine in their proposed $85.4 billion cash-and-stock merger deal. Meanwhile, recent media reports about Sprint (S) aggressively seeking a deal with a fellow wireless provider like T-Mobile (TMUS) or a cable company like Comcast (CMCSA) or Charter Communications (CHTR) have brought more attention to the potential implications of the AT&T-Time Warner deal.
Article continues below advertisement
Claims against AT&T-Time Warner deal
There are, of course, fears that AT&T could raise content costs for other media companies after its swallows Time Warner. Dish Network (DISH) acquires content from Time Warner, and AT&T's recent acquisition of DIRECTV and its subsequent launch of DIRECTV Now has brought it into more direct competition with Dish. In addition to offering satellite pay-TV, Dish runs a DIRECTV Now competitor, Sling TV.
There are also concerns that AT&T could make life harder for its smaller competitors by only promoting its own products, which would make it difficult for its rivals to pitch to its phone subscribers.
In what appears to complicate matters, AT&T has zero-rated DIRECTV Now so that it doesn't account against the data plans of its phone customers. The company also offers free access to HBO to subscribers of its unlimited data plans. HBO, a product of Time Warner, normally costs $15 a month.
Reduced consumer options
Now that Sprint is also on an expedition that could result in further wireless consolidation, there's been renewed attention on how the AT&T-Time Warner merger could impact consumer choices and prices.