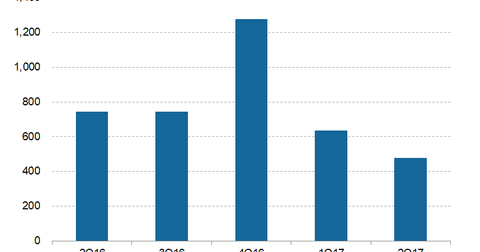 How AT&T Improved Its International Segment's Margins
By Ambrish Shah

Updated
AT&T's expansion into Mexico
Mexico will likely be a long-term value creator for AT&T (T) given the company's massive success so far in the country. The company's international segment saw good improvement with growing sales and better profitability in 2Q17. During AT&T's recent 2Q17 earnings conference call, the management noted that the company is finished with its heaviest investment cycle in Mexico and anticipates the investment will start to pay off in 2017.
Article continues below advertisement
AT&T's management noted that the carrier had developed not only an immense marketing and distribution base but also a great network in Mexico. AT&T's international segment should become a more meaningful contributor to consolidated EBITDA (earnings before interest, tax, depreciation, and amortization), earnings, and free cash flow (or FCF) as the company expands in Latin America and Mexico.
AT&T's Mexico wireless net additions in 2Q17
In 2Q17, AT&T added 476,000 wireless net subscribers in Mexico as compared to 742,000 in 2Q16. Meanwhile, in Latin America, DIRECTV lost 56,000 video subscribers in 2Q17. At the end of 2Q17, AT&T's wireless footprint in Mexico covered 88 million POPs (point of presence), or around 75% of the country. According to the company, Latin America is performing well and generating positive FCF despite the tough environment.
As a result, by focusing on both international video and wireless components, AT&T is on the plus side as this helps to offset the ongoing US weakness. Rivals Sprint (S) and T-Mobile (TMUS) have tried extensively to take customers from other companies such as AT&T and Verizon (VZ).