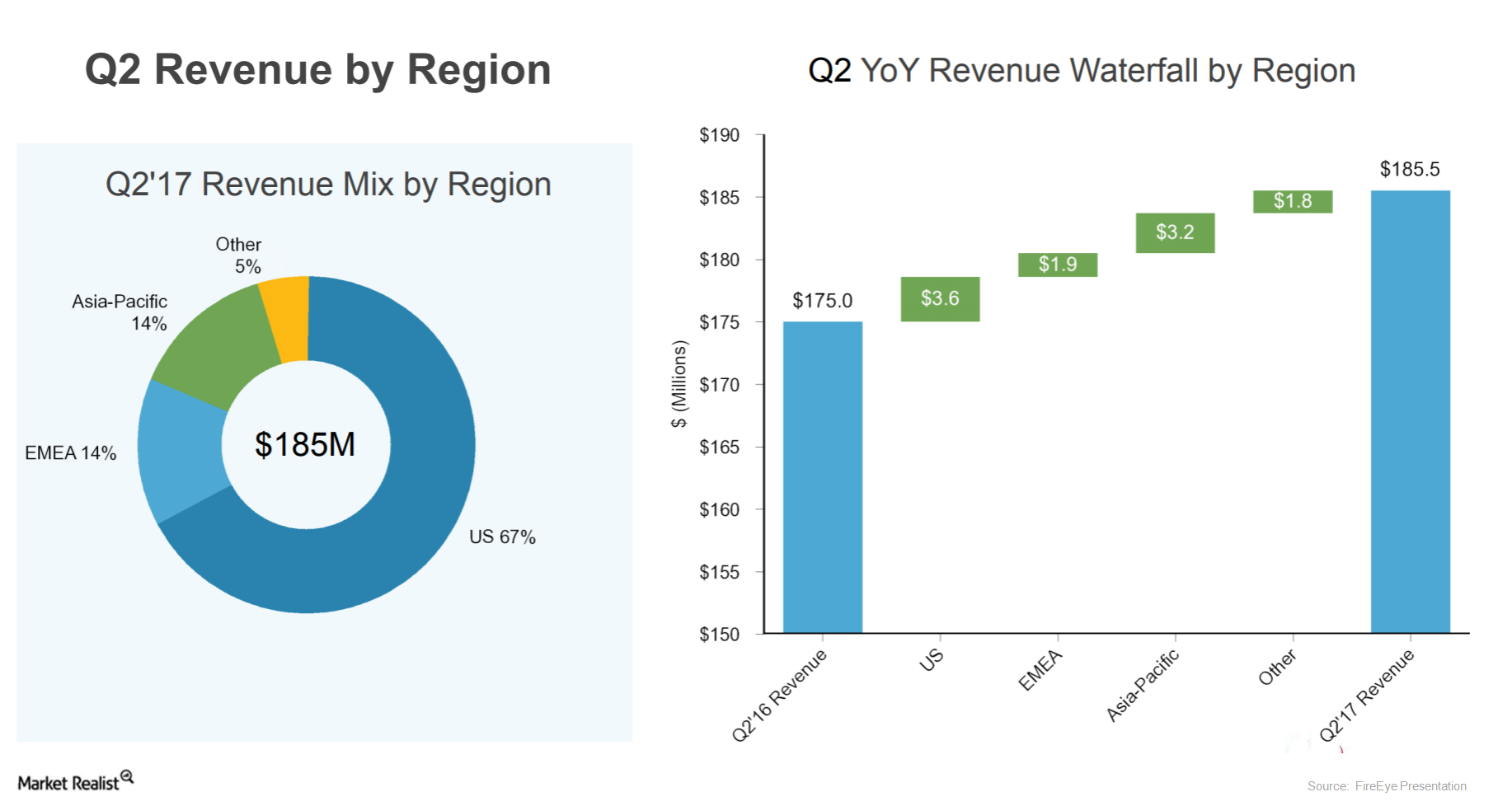 Analyzing FireEye's Geographic Revenues in 2Q17
FireEye's dependence on geography for revenues
So far in this series, we have discussed FireEye's (FEYE) revenue and billings growth. In this article, let's have a look at the geographical contribution to FireEye's revenues. As the chart below shows, FireEye generated 69.0% of its revenues from the United States (SPY), 14.0% from EMEA (Europe, Middle East, and Africa), and 14.0% from APAC (Asia-Pacific) and Japan (EWJ) in 2Q17.
Although FireEye generates a majority of its revenues from the United States, it does have significant exposure in Europe (EFA).
Article continues below advertisement
Security spending in the US
FireEye's geographical concentration in the US is expected to benefit the company. With $36.9 billion in security and related investments, the US (QQQ) is expected to be the largest market for security offerings over the 2015–2020 forecast period. The US is followed by Western Europe, which is expected to spend ~$19.2 billion this year.
Excluding Japan, APAC had a CAGR[1. compound annual growth rate] of 18.5% during the above-mentioned period and is expected to be the company's fastest-growing region. APAC is followed by the MEA (the Middle East and Africa) and Western Europe, which could grow at CAGRs of 9.2% and 8.0%, respectively.
The banking industry is the largest market with respect to spending on security offerings and services.
In 2Q17, 50% of FireEye's deals were from the retail, manufacturing, hospitality, banking, and energy industries. FireEye is strategically focused on industries that not only have a dominant presence but are also poised for growth.