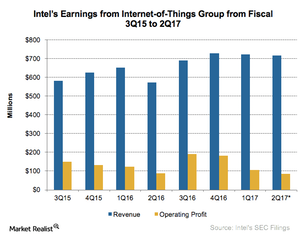 Will the Internet of Things Replace Intel's PC Business?
By Puja Tayal

Jul. 19 2017, Updated 9:08 a.m. ET
Intel's IoT Group
Intel (INTC) is looking to reduce its dependence on the PC (personal computer) market. It needs a large enough market to replace the earnings of the PC market. The IoT (Internet of Things) space offers that opportunity because it provides computing for end devices just like PCs.
Intel's IoTG (IoT Group) segment largely caters to the industrial, retail, and video segments, and it's been witnessing strong double-digit revenue growth over the last two years. In 1Q17, the IoTG segment's revenue rose 11% YoY (year-over-year) to $721 million. However, the segment accounts for less than 5% of the company's revenue.
Article continues below advertisement
At this rate, IoT can't replace PC sales, so Intel has revised its IoT strategy to focus on larger markets that generate higher returns. The company started investing in autonomous cars at the end of 2016, which significantly increased the IoTG segment's operating expenses and reduced its operating profit 15% YoY to $105 million in 1Q17.
The IoT segment is likely to report steady revenue growth and lower profits throughout 2017.
What's Intel's strategy to boost IoT growth? 
In order to boost its IoT growth, Intel hired ARM Holdings' executive vice president of strategy, Tom Lantzsch, to head its IoTG segment in November 2016. In June 2017, Intel discontinued three of its IoT products, Joule, Galileo, and Edison, in its Quark segment, which manufactures ultra-low-power microcontrollers for low-cost IoT devices used in smart buildings, retail, the industrial and energy sectors, and other sectors.
Article continues below advertisement
Quark's total addressable market is ~$2 billion. If Intel secures 20% of this opportunity, it will equate to just $400 million. Such low revenue is just a drop in the ocean of Intel's $60 billion in annual revenue. The IoTG segment is shifting its focus away from such small segments and toward higher-impact products and market segments.
Intel's Atom processors aren't dead
Intel's Atom x5 processors have qualified for use in Amazon's (AMZN) Alexa-enabled Echo devices. Earlier, Intel used its x86-based Atom processors in Smartphones and tablets, but it discontinued this use due to strong competition from ARM processors. Intel has finally found a use for its Atom processors in AI-enabled (artificial intelligence) IoT devices, which need the computing power of x86 processors.
Intel has found another higher-impact IoT product: autonomous vehicles. The company is acquiring Israel-based assisted-driving systems supplier Mobileye (MBLY) to grow in this market. We'll look into the details of this acquisition in the next article.