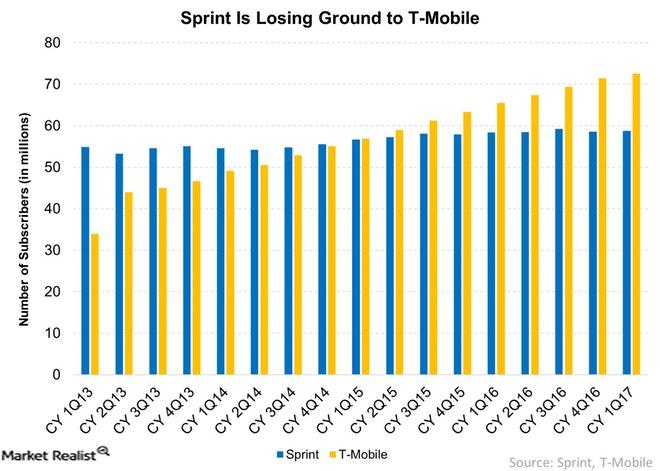 Will Sprint's New Offer Enhance Its Subscriber Base?
Sprint's aggressive promotions
Sprint (S) currently is offering one year of free unlimited voice, text, and data services to those subscribers who bring their own devices to Sprint.
With this initiative, Sprint has taken the telecommunications (or telecom) pricing war to a new level. According to analysts, this new offer by Sprint is an aggressive one, as there's tremendous competition in the telecom industry.
In terms of subscribers, Sprint is the fourth-largest telecom company in the US wireless space. As we can see in the graph above, the carrier has lost the third position to T-Mobile (TMUS) over the years, and it's well behind the likes of AT&T (T) and Verizon (VZ).
This new offer from Sprint could turn things around. Alternately, if Sprint still can't attract many subscribers, it may see more pressure on its earnings, which are already on the negative side.
Article continues below advertisement
Sprint's new offer is an attempt to attract more subscribers
Subscribers must own their Smartphones in order to take advantage of Sprint's new offer. They'll be asked to start paying normal rates after June 30, 2018. However, they'll also be allowed to switch or cancel the service.
Sprint upgraded its unlimited data plan earlier this year. New subscribers can purchase one line on its unlimited plan for $50 per month. After this free promotion expires, the carrier will revert back to its regular rates, with a single line costing $60 per month.
Meanwhile, T-Mobile's unlimited plan starts at $70 per month for one line, whereas Verizon offers an unlimited plan for one line at $80 per month. AT&T offers an unlimited plan starting at $90 per month for one line.
Unlike T-Mobile, Verizon doesn't include additional fees such as taxes in its advertised rates.